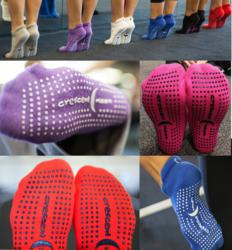 We love being at the forefront of the fitness market," said Summer Meddock, Sales & Marketing Director for Crescent Moon. "The new ExerSock colors are stunning and complement our growing collection of innovative fitness accessories."
Anaheim, CA (PRWEB) April 03, 2013
Crescent Moon Yoga, a recognized leader in functional and stylish fitness accessories, is responding to the dramatic growth in Barre method exercise by adding new spring colors in pink, purple, red and royal blue to its best-selling line of ExerSocks.
Crescent Moon created the original 'grippy-style' ExerSock, in 2002. The ExerSock is designed to provide non-slip traction, a cushioned sole and anti-bacterial protection without the weight and bulk of a sneaker. The lightweight and flexible design of the ExerSock is perfect for low impact workouts such as Barre, Yoga and Pilates. The non-slip ExerSock is also a sanitary and practical solution for other indoor sports, hospitals, nursing homes and for business travelers to work out in a hotel gym.
"We love being at the forefront of the fitness market," said Summer Meddock, Sales & Marketing Director for Crescent Moon. "The new ExerSock colors are stunning and complement our growing collection of innovative fitness accessories."
The ExerSocks are available for purchase by the pair (SRP - $9.99) or in a 3-pack (SRP $24.99). ExerSock colors include Black, White, Gray, Pink Ribbon, Purple, Red, Royal Blue and Pink. This summer Crescent Moon will continue the growth of the ExerSock brand with the launch of the new 'Sorbet Collection'.
About Crescent Moon Yoga
Crescent Moon was established in 2001 to promote and enhance the fitness lifestyle to an ever increasing audience by designing products that are innovative, functional and stylish. Crescent Moon continues to expand their existing line of exercise related Apparel, Accessories, Yoga Mats and Mat Bags and remains a brand leader in the fitness category. For a complete list of Crescent Moon products, visit http://www.crescentmoonyoga.com