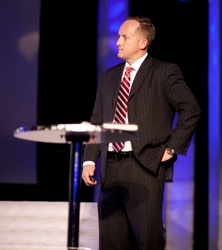 Those who understand the principles of online business will have a significant advantage over those who don't.
Orem, UT (PRWEB) April 22, 2011
Brigham Young University (BYU) students who entered a website contest sponsored by Crexendo got more than they expected. Crexendo is a Web marketing company based in Tempe, Arizona. Its University Program (UP) holds website contests at various qualifying universities in the western United States. The website contests are designed to give university students with varying levels of online experience exposure to website design, building, and marketing.
The most exciting thing that comes from the Crexendo website contests is the variety of different types of websites and businesses that students build. In this, the second year of the contest at BYU, contestants comprising 36 teams showed exceptional brilliance with their entries. Third place winners Michael Willie and Taylor Moss built a functioning e-commerce site selling high-end bedding (http://www.CascadeBedding.com). Second place winners Joel Ragar and Evan Teshima built a site where users can book discounted rounds of golf at courses all across the U.S. (http://www.GolfCompete.com). First place winner Saul Howard built a site to sell an Android application he developed that allows users to play their video library on a variety of devices in their home, as well as on their mobile devices (http://www.rokuconnect.com).
"Technology is a fundamental aspect business, and as long as that is the case there is a vital need to help students understand how to use it for their benefit. Those who understand the principles of online business will have a significant advantage over those who don't," said Program Director Jeff Brown of the Rollins Center for Entrepreneurship and Technology at BYU.
Student teams each got a free website, access to the Crexendo CMS (content management system), and training from Crexendo in different aspects of Web marketing. They had about three months to build their websites, including the behind-the-scenes work of setting up the necessary business relationships, where applicable.
"It's remarkable that students, many with no web building skills and carrying full-time class loads, manage to develop what in some cases are extraordinary websites," said Crexendo President Clint Sanderson. "It's a learning experience for the students but also for Crexendo. We learn more about the needs of our customers. This contest lets us be a good corporate citizen but it also helps us continue to optimize our software."
Prize money pay-outs were $10,000 for first place; $5,000 for second place; $1,500 for third place; and six runners up at $250 each. Judges from Crexendo and BYU evaluated websites on Appearance (15%), Mechanics (35%), Marketing (25%), Overall Idea (25%), plus a bonus category called Traction, wherein contestants earned up to 10% extra points for actual leads or sales their websites generated.
Contestants get six months of free web hosting for their sites and pay $9.95 per month thereafter if they choose to keep their websites running.
Crexendo is a technology company that serves small and medium-sized businesses. It specializes in Web marketing services and hosted business telephone services. The Web marketing services Crexendo provides include link-building and other SEO, paid search management, social media strategy, conversion rate optimization (CRO), and more. It also offers free workshops on various Web marketing topics to groups of owners and managers (http://www.Crexendo.com).
# # #