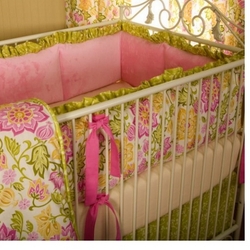 With our design-your-own interactive tool, the possibilities for custom baby bedding are endless.
Atlanta, GA (PRWEB) April 16, 2010
Carousel Designs, a leading designer of upscale crib bedding, toddler & twin bedding, and home décor is celebrating its commitment to the popular microblogging site, Twitter, by launching its first exclusive "We're so Tweet" Twitter Giveaway on Friday, April 16th.
For 2 weeks, followers of Carousel Designs on Twitter who retweet the phrase, "We're giving away free designer crib bedding! FOLLOW @carouseldesigns & retweet to enter! http://ow.ly/1xZYT", will be entered to win a $250 gift certificate redeemable at babybedding.com.
The gift certificate can be used to purchase designer crib bedding or nursery décor from the company's website. It can also be used to purchase custom, one-of-a-kind baby bedding that customers design themselves using the company's exclusive Design-Your-Own-Baby-Bedding (DYOBB) interactive tool. Says Allan Sicat, father of one with a baby on the way and President of Carousel Designs, "The design possibilities are endless."
The phrase can be retweeted once a day and the retweeter will receive one entry per retweet during the promotion period. To be eligible to win, entrants must follow Carousel Designs on Twitter (@carouseldesigns).
The contest ends Friday, April 30, 2010 at 12pm EST.
About Carousel Designs and babybedding.com:
Carousel Designs is a leading designer and manufacturer of upscale crib, toddler & twin bedding and home décor, offering a design-your-own option for beautifully inspired living. The company has been distributing its products to better retailers since 1988 and now offers its entire line directly to consumers at significantly lower prices. Carousel Designs is committed to providing exceptional style, quality and customer service. All of our products are made in the U.S.A. at our design studio in suburban Atlanta, GA. For more information, visit us at http://www.babybedding.com.
###