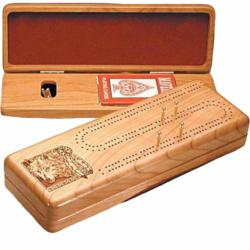 "I was stunned by the quality of the board, it was intended as a gift to a good friend but it is so well crafted that I had second thoughts about keeping it for myself." Colin Ferm, Brooklyn, New York
Houston, Texas (PRWEB) November 21, 2011
Since 2004, Cribbage Supply has been America's #1 source for quality, Custom Cribbage Boards. This small business run out of Houston, Texas by the family of a disabled American veteran has been busy getting ready for the holiday rush. Wilderness Woods, a shop located in Rockford, Illinois, crafts the very popular Continuous Cribbage Boards. This board features various engravings on the lid; including eagles and a deer head. Crafted with American Cherry wood, it opens to store cards and pegs. Another trendy board with storage is made in Hayward, Wisconsin. The Country Woods three track Cribbage Boards with Inlay is hard to keep in stock. Maple Landmark, a company in Middlebury, Vermont, crafts the ever-popular Motorcycle Cribbage Boards in cherry wood. A conservation minded company, for every tree they use for their cribbage boards they plant one in its place.
Last Christmas, Cribbage Supply had a huge demand for travel bags for Cribbage Boards. Simply Bags, a company in Macomb, Michigan, was able to meet this demand at the last minute and has been busy on the sewing machine trying to keep up. Combining two relaxing hobbies, Wood America, a shop in Salida, California, makes the handmade Surfboard Cribbage Boards. Mahogany has always been a preferred wood and Acorn Wood Products in West Gardiner, Maine has supplied the Tournament Cribbage Boards in Mahogany for this year.
The perfect hand in cribbage, a twenty-nine, is the hole-in-one of cribbage. To celebrate, The Ultimate Sign Company of South Windsor, Connecticut, has created this Acrylic 29-Shape Cribbage Boards to commemorate the lucky hand. Even American authors are benefiting from the success of Cribbage Supply. Sterling Publishing of New York has been supplying the must-read Killer Cribbage. It's the combination of Dan Barlow's "Play Cribbage to Win" and "Winning Cribbage Tips".
A Kewaskum School Teacher in West Bend, Wisconsin, is an expert on the CNC machine. His Giant Cribbage Boards have been used by the VA for Disabled Veterans undergoing rehabilitation for hand and eye injuries. Two gifted brothers in Missoula, Montana, are responsible for the beautiful Bloodwood Cribbage Boards that come from Wooden Images. Hours of fine work are put into these treasures that are crafted to be handed down from one-generation to the next. Colin Ferm, of Brooklyn, New York wrote, "I was stunned by the quality of the board, it was intended as a gift to a good friend but it is so well crafted that I had second thoughts about keeping it for myself."
Fishermen love the Chinook Salmon Cribbage Boards made by the Saber-Tooth Company in Stevens Point, Wisconsin. These cool two-player boards are made in the shape of a fish and available for Walleye, Largemouth Bass, Rainbow Trout, and many other trophy catches. Heartwood Creations, a shop in Rockford, Illinois, makes the cherished Cocobolo Cribbage Boards. Since they were introduced in 2009, these boards quickly became in high-demand.
The undefeated Green Bay Packers have their own cribbage board made by Rico Industries in Niles, Illinois. If they go to the Super Bowl again, these Green Bay Packers Cribbage Boards will certainly be out of stock soon.
Cribbage Supply has also been a boost to not just American small businesses, but struggling large businesses as well. The U.S. Playing Card Company based in Erlanger, Kentucky, has faced difficult competition from overseas. Their Low Vision Playing Cards made in Cincinnati, Ohio, have been a big help to aging cribbage players. The Carrom Company, owners of Drueke since the 90's, make the Club Cribbage Master in Ludington, Michigan. And of course there's the U.S. Post Office, the largest American business facing the pressures of the changing economy. The branch in Rosharon, Texas has been kept open due in part to the large volume of cribbage pegs and cribbage boards mailed from their office.
About CribbageSupply.com:
Selling Custom Cribbage Boards and Personalized Cribbage Pegs online since 2004, CribbageSupply.com is proud to provide American made products to the cribbage playing world. The site offers a wide and unique selection of products for the game. If you are an avid or beginner cribbage enthusiast who would like a cribbage board for the perfect holiday gift, call Toll Free 877-MUGGINS (684-4467) or visit them online at http://www.cribbagesupply.com.
###