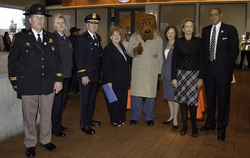 Take A Bite Out Of Crime®
Arlington, VA (Vocus) October 24, 2009
Today, the National Crime Prevention Council and its icon, McGruff the Crime Dog, were joined by local officials to highlight the need for crime prevention and individual involvement to keep the metropolitan area safe from crime.
Representatives from the U.S. Department of Justice, U.S. Attorney's Office for the District of Columbia, National Sheriffs' Association, Washington Metropolitan Area Transit Authority, and the Metropolitan Police Department assembled for an 8:00 a.m. press conference at the Gallery Place-Chinatown Metrorail station.
McGruff and members of the Metropolitan Transit Police invited Metro riders to "step up to a safer community" as they handed out fliers, pins, and pens to remind everyone to come together to prevent crime. Throughout October, Crime Prevention Month, NCPC is working with Metro and its partners, the U.S. Department of Justice and the National Sheriff's Association, in the Celebrate Safe Communities initiative.
Celebrate Safe Communities is designed to spotlight communities' crime prevention efforts and enhance ongoing public awareness of crime prevention and safety messages that help keep neighborhoods safe from crime.
Although crime has dropped nationwide, NCPC points to community collaboration with its partners and law enforcement as a key to maintaining crime-free communities. It is also committed to helping law enforcement address those areas where crime has spiked in recent years.
Next week McGruff will wind down Crime Prevention Month with a repeat appearance at the Gallery Place-Chinatown Metrorail station with Metro Transit Police. Serving a population of more than 3.5 million people throughout the District of Columbia and the Maryland and Virginia suburbs, Metro plays a vital role in the community. Metro Transit Police are working to reduce crimes that occur on Metro property and are taking advantage of Crime Prevention Month to educate riders about how to travel safely and protect their personal belongings.
For more information about Crime Prevention Month, visit NCPC's website at http://www.ncpc.org. To schedule an interview, please contact Amy Vimislicky at 202-261-4156 or Michelle Boykins at 202-261-4184 (mboykins (at) ncpc (dot) org).
About the National Crime Prevention Council
The National Crime Prevention Council (NCPC) is a private, nonprofit organization whose primary mission is to be the nation's leader in helping people keep themselves, their families, and their communities safe from crime. NCPC manages public service advertising under the National Citizens' Crime Prevention Campaign—symbolized by McGruff the Crime Dog® and his "Take A Bite Out Of Crime®" slogan—and acts as secretariat for the Crime Prevention Coalition of America, more than 400 national, federal, state, and local organizations representing thousands of constituents who are committed to preventing crime. NCPC is funded through a variety of government agencies, corporate and private foundations, and donations from private individuals. For more information on crime prevention issues, visit http://www.ncpc.org.
###