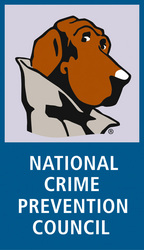 Take A Bite Out Of Crime®
Arlington, VA (Vocus) September 16, 2009
From the inappropriate MTV Movie Award's moment to the outburst at the U.S. Open, the National Crime Prevention Council (NCPC) says the lack of respect shown this week, which has become typical of many public figures, has to stop. Next month NCPC will launch a new initiative called Circle of Respect that aims to create a nationwide movement that will fundamentally change the way people treat each other, beginning with a new approach to bullying.
Asking "Are You In it?," the Circle of Respect initiative will start by addressing the twin issues of bullying and cyberbullying to fundamentally change the notion that bullying is a rite of passage to one where bullying is unacceptable. On Wednesday, September 16, 2009, NCPC will establish the Alfonso Lenhardt Innovation Fund to sustain the Circle of Respect initiative beyond its initial funding stream. The initiative has received seed money through a public-private partnership including funding support from the Bureau of Justice Assistance, U.S. Department of Justice, and private support from corporations such as Simon Property Group.
The Circle of Respect is a multi-phased initiative that will eventually expand in scope to include harassment, vandalism, theft, alcohol and other drug abuse, date rape, and hate crimes. October, Crime Prevention Month, will be the springboard for the formal launch of the initiative where you will find out how noted authors such as Rosalind Wiseman (Queenbees and Wannabes), Rachel Simmons (Odd Girl Out), Dr. William Pollack (Real Boys' Voices), and many more will play a role in elevating this campaign to a national discussion.
If you would like to attend the unveiling of the Lenhardt Innovation Fund ceremony or want more information about the Circle of Respect initiative, please contact Michelle Boykins at 202-261-4184 or Amy Vimislicky at 202-261-4156.
About the National Crime Prevention Council
The National Crime Prevention Council (NCPC) is a private, nonprofit organization whose primary mission is to be the nation's leader in helping people keep themselves, their families, and their communities safe from crime. NCPC manages public service advertising under the National Citizens' Crime Prevention Campaign—symbolized by McGruff the Crime Dog® and his "Take A Bite Out Of Crime®" slogan—and acts as secretariat for the Crime Prevention Coalition of America, more than 400 national, federal, state, and local organizations representing thousands of constituents who are committed to preventing crime. NCPC is funded through a variety of government agencies, corporate and private foundations, and donations from private individuals. For more information on crime prevention issues, visit http://www.ncpc.org.
###