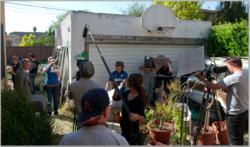 "We looked at all of these crowdfunding campaigns," says show creator Dick DeCoit, "and we felt like they all focused on swag and t-shirts. We think there's a really unique opportunity to give donors an entirely different kind of reward."
Los Angeles, CA (PRWEB) May 17, 2013
The creators of the web series Crime and Consequences were struggling with ways to make their crowdfunding campaign stand out. Then it hit them: Why not let donors become a part of the show? The result is a new Indiegogo campaign that gives contributors the chance to actually be featured in episodes. They're hoping that this unusual approach will allow them to reach their fundraising goal of $50,000, covering production costs for the entire first season.
Apart from appearing as a dead body in the show, other perks for contributors include having your picture posted on the "wanted" board inside the police station, getting your name mentioned as a "person of interest," having your photo appear regularly on a detective's desk, and even providing a written quote to be spoken by one of the show's characters.
"We realize that this show isn't going to happen without our supports," DeCoit says, "so we want to make them as engaged as possible with every aspect of production."
The crowdfunding campaign launched May 15, 2013 on Indiegogo. Its two main principals are Dick DeCoit and Brian Gross, Hollywood veterans who have appeared on shows such as NCIS LA and The Young and the Restless. The series is directed by Frank Bonner, who is best known for his role as "Herb" in WKRP in Cincinnati To see a full list of perks and learn more about the show, visit the Crime and Consequences Crowdfunding Page.