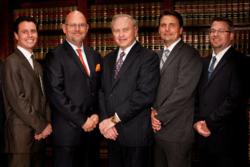 California (PRWEB) June 13, 2013
The California Criminal Defense Attorney Earl Carter announced growth of his business in Los Angeles, Riverside, San Jose, and Orange County with new criminal attorneys. The Law Offices of Earl Carter and Associates have been defending people accused of crimes in Los Angeles, Riverside, San Jose, and Orange County since 1975. With a team of experienced California criminal defense attorneys, Earl Carter helps defend people currently facing criminal charges
In Los Angeles, if someone has been accused of a criminal charge, then experienced representation is needed to provide the best chance to defend that person's freedom. Earl Carter and Associates Los Angeles criminal defense attorney defends people accused of all types of felonies and misdemeanors including sex offenses, sexual assault, rape, drug charges, murder, attempted murder, bribery, fraud, assault, juvenile charges, weapons charges, identity theft, domestic violence, DUI, and drunk driving.
The Riverside criminal defense attorneys at the Law Offices of Earl Carter and Associates are passionate about fighting for the rights of their clients. Every one of their Riverside criminal defense attorneys has years of experience in criminal law. They offer more than 100 years of combined legal experience. Earl Carter focuses exclusively on representing people charged with criminal offenses in Riverside and San Bernardino counties. Their Inland Empire law firm is known for taking on challenging cases, working hard, and winning impressive results for clients.
At the Law Offices of Earl Carter and Associates, in San Jose California, the San Jose criminal lawyers provides quality criminal defense to people in the Greater San Jose area. The team includes former criminal prosecutors who have firsthand knowledge of how police and district attorneys build cases. The tactics used by local prosecutors are familiar to them, allowing these knowledgeable San Jose criminal attorneys to help defend criminal case successfully.
Due to the potential severity of a criminal accusation or arrest, securing high quality criminal defense will be imperative to achieving an ideal outcome in a case. Earl Carter's Orange County criminal defense attorney works with clients to develop as strong of defense as possible against their criminal charges.
About The Law Offices of Earl Carter and Associates:
The criminal lawyers at Earl Carter & Associates have been defending criminal cases in California for over 35 years. Their experience and knowledge encompasses all criminal defense practice areas including DUI, drug crimes, serious felonies, welfare fraud, Theft charges, including petty theft, burglary, and robbery, domestic violence, traffic tickets, and more. Earl Carter is the best California criminal attorney and their criminal defense lawyers will aggressively defend any case. They have Spanish speaking Abogados en California. Specifically with DUI's, Earl Carter has been defending DUI cases since 1975 and they have more experience and win more DMV hearings than most any other DUI Attorney. Earl Carter is known as the best DUI Attorney in California with locations in Los Angeles, Riverside, San Diego, Victorville, Fontana, San Bernardino, Sacramento, San Jose, Oakland, Modesto, Bakersfield, Fresno, and Redding.