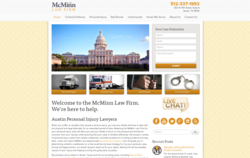 Austin, Texas (PRWEB) September 17, 2012
The McMinn Law Firm's website has been redesigned for better aesthetics and navigation.
The website for the Austin personal injury attorneys at The McMinn Law Firm now has improved typography to provide for easier readability, as well as an overall increase in the website's beauty.
The site will continue to offer live chat capabilities and legal blog posts that advise on safe driving and other ways to avoid trouble, as well as simple ways to get in touch with the attorneys via a contact form or the phone number on the website, which is answered 24/7 for quick response.
The text on the site has also undergone small edits to make navigation of the site easier and to provide for a better flow of information for readers.
"The new site is beautiful and elegant," said Justin McMinn, one of the Austin criminal defense attorneys with The McMinn Law Firm. "We hope the redesign will help visitors to our site find information quicker and easier. When someone has suffered an injury or been arrested, they need so much information, and our site seeks to provide them with the information they need in order to pick the right attorney."
About The McMinn Law Firm
McMinn Law Firm is an Austin personal injury and criminal defense law firm that has been operating for more than five years. Its principal attorneys, Jason McMinn and Justin McMinn, pride themselves on being practical and aggressive lawyers who help their clients.
###