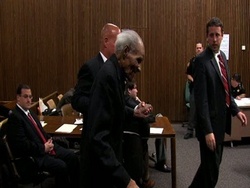 At Patituce & Associates, we want to give our client's the best so we look to add the best.
Cleveland, OH (PRWEB) February 10, 2011
Joseph C. Patituce, President and Managing Partner of Patituce & Associates, proudly announces the addition of Jaclyn M. Butler as an associate attorney at Patituce & Associates. Jaclyn M. Butler graduated with honors from the Cleveland-Marshall College of Law, graduating Magna Cum Laude.
In addressing the addition of Butler Patituce said, "When I look to add any new attorney to my Firm I look for people that have a sincere desire to step in right away and help my clients. Ms. Butler is highly intelligent, aggressive, and will be an incredible asset to my Firm."
Ms. Butler will immediately begin work as a criminal defense attorney focusing on defending individuals from charges of driving under the influence, drug possession, domestic violence, sex crimes, and internet sex crimes.
Patituce says, "Butler has already taken on tremendous responsibilities in defending some of my most important matters for my most important cases. She is incredibly intelligent, sophisticated, and has a lot of raw talent that helps her adapt quickly to what my clients need."
As a member of Patituce & Associates, LLC, Butler will be responsible for managing many of the Firm's internet sex crimes,divorce cases, and personal injury cases. She will work hand in hand with the paralegals and other attorneys at Patituce & Associates, LLC, to ensure that their clients continue to receive the high quality level of work, and results, that people have come to expect from Patituce & Assocaites.
Butler was fundemental in helping Patituce & Associates obtain an acquital in State v. Brandon Betliskey, tried in Cuyahoga Court of Common Pleas, before the Honorable Judge Astrab in case number 10-540093. Betliskey was charged with attempted murder, and two counts of felonious assault - he faced up to 26 years in prison. In part, due to Butler's help, Patituce secured an absolute acquital on all charges and Betliskey walked out a free man.
Butler will be representing clients on behalf of Patituce & Associates as a criminal defense lawyer, divorce lawyer, personal injury lawyer, in the following cities: Cleveland, Sandusky, Vermilion, Medina, Lorain, Elyria, North Ridgeville, North Olmsted, Strongsville, Westlake, Bay Village, Painesville, Ravenna, Canton, Akron, Parma, Euclid, Mentor, Cleveland Heights, Shaker Heights, and the rest of Northern Ohio.
Patituce says, "The addition of Ms. Butler will ensure that my Firm will continue to be able to help individuals accused of drug crimes, sex crimes, weapons crimes, crimes of violence, divorce cases, and family issues. We strive to be the best and we will help our clients with any problem they face."
# # #