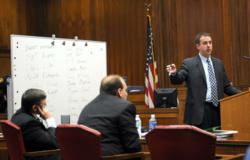 It is my duty to defend my clients with the utmost integrity from allegations made by the government.
Cleveland, OH (PRWEB) June 24, 2011
Muskingum University student Quinton L. Callaway took his case to trial in Muskingum County Court of Common Pleas, Zainesville, Ohio. The case was captioned State of Ohio vs. Quinton Callaway, number CR-2011-0011, before the Honorable Judge Cottrill, Muskingum County Court of Common Pleas. The jury returned a verdict of not guilty as it related to the felony sex counts.
Joseph Patituce, of Patituce & Associates, a criminal defense attorney from the Cleveland area was retained, and entered his notice of appearance, to represent Callaway on January 21, 2011. The Court's docket reveals that Patituce was highly active in the case requesting that the Court compel the Prosecutors to turn over certain evidence, including the grand jury transcript.
When asked about the large number of motions that he had filed in this case Patituce said, "It is my job, and responsibility, to defend my clients with the same level of integrity and aggression that I would want if I were charged with a crime. I am a criminal defense attorney, it is my job to challenge the allegations the prosecutor makes, and find all of the evidence that shows the inconsistencies in a witnesses statements."
Callaway was arrested in January 2011 on charges of attempted rape, gross sexual imposition, and voyeurism. He was alleged to have sexually assaulted another university student at Muskingum University. Callaway entered a plea of not guilty to all charges on January 26, 2011.
After brief negotiations over a possible resolution the State of Ohio offered Callaway the opportunity to plea guilty to one count of attempted gross sexual imposition, a felony of the fifth degree. This plea offer was declined by Patituce and the case proceeded to trial before a Muskingum County jury.
Patituce argued that the alleged victim told so many different stories - ten in fact - that it was impossible to believe her. Patituce argued that multiple witnesses had testified that they had asked the alleged victim if Callaway ever touched her - and that her response was a resounding "no he did not".
After approximately two hours of deliberation the Muskingum County jury returned a verdict of not guilty on the felony sex charges.
Patituce & Associates is a criminal defense firm located just outside of Cleveland, Ohio, and represents individuals in both state and federal court.
###