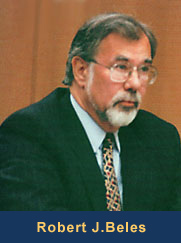 Our Fremont criminal lawyers have experience dealing with all types of sexual assault cases and we have a particular focus on cases related to people having to register as offenders
Walnut Creek, California (PRWEB) February 27, 2013
Walnut Creek criminal lawyers at Beles & Beles were recently featured in "Top Rated Lawyers" which is a publication put out by Martindale Hubbell. In addition to being featured, Beles & Beles also carries an A/V Rating for demonstrating the highest level of legal competency and ethical behavior.
Walnut Creek criminal lawyers Robert Beles and daughter Anne C. Beles are both Certified Specialists in Criminal Law Certified by the State Board of Legal Specialization of the State Bar of California. Senior partner Robert J. Beles has practiced criminal law in the Walnut Creek, Oakland – San Francisco Bay Area since 1968. The first 11 years with the Alameda County Public Defender and 32 years in private practice. Walnut Creek criminal defense attorney Annie Beles has been a member of the firm since 1999. Robert and daughter Annie often team up on high-profile cases. "We defend people on all state and federal prosecutions, and have recently expanded into defending the rights of immigrants in deportation proceedings because of the overlap between the legal issues involved in criminal and immigration law. No case is too big or too small. All clients with criminal and immigration problems are important and deserve the vigorous defense that we provide," says Robert Beles.
In addition to the above stated practice areas Beles & Beles is also respected for the criminal defense work they have done in the area of sexual assault. "Our Fremont criminal lawyers have experience dealing with all types of sexual assault cases and we have a particular focus on cases related to people having to register as offenders," says Beles.
Beles & Beles are also respected criminal lawyers in Fremont CA. According to their Google reviews they are considered to be one of the best Fremont criminal defense law firms available to consumers. They offer a no cost consultation hotline to consumers who are considering hiring a Fremont or Walnut Creek criminal defense attorney.
As criminal lawyers in Walnut Creek, CA Beles & Beles aggressively defends the rights of their clients. They also offer a no cost consultation to people who are facing criminal charges and their families. "If someone is considering hiring an experienced Walnut Creek criminal lawyer we want them to consider us," says Robert. Currently people can call the law firm and speak with an experienced Walnut Creek criminal lawyer, not a paralegal.
To learn more about the Walnut Creek criminal lawyers at Beles & Beles please visit their website, read their press releases, watch their informative videos or call now to speak with a criminal lawyer in Walnut Creek, CA.
Beles & Beles
39159 Paseo Padre Pkwy
Fremont, CA 94538
(510) 889-7800