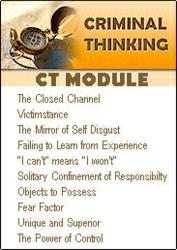 This criminal thinking module was created with community based programming in mind.
Bethesda, Maryland (PRWEB) April 02, 2013
CriminalThinking.net has developed an exciting new Criminal Thinking Module based on a cognitive-behavioral approach to therapy.
This module describes many common thinking errors present in the criminal/offender population. The assignments associated with the thinking error articles in this module focus on developing the reasoning process of clients.
For instance, when a client is instructed to complete assignments that focus on how their actions have victimized others, the change agent is helping to interfere in the criminal's distorted thinking that supports continued victimization.
The new Criminal Thinking Module changes the criminal thinking paradigm by focusing on three main goals:
1. Describing and providing examples of common criminal thinking errors in the offender population
2. Assisting mental health and corrections practitioners and offenders to become more aware of thinking errors and thinking distortions
3. Helping change agents facilitate the "criminal thinking" change process
"This criminal thinking module was created with community based programming in mind," says Brian Loebig, MBA/CADCIII, proprietor of the CriminalThinking.net website. "It can be completed in an individual study or in open-ended groups facilitated by a cognitive therapy trained mental health or corrections practitioner. Group sizes from eight (8) to twenty (20) can be facilitated by this module. If you are involved with Corrective Thinking, Domestic Violence, AODA and/or Cognitive-Behavioral focus, you can also participate."
Criminal Thinking Errors Worksheets are available for free on the CriminalThinking.net website in the "Materials" section. Its target audiences are adult male or female offenders, batterers and/or drug abusers with a 7th grade reading level.
The Criminal Thinking Module was developed from selected articles on the CriminalThinking.net blog "Criminal Thinking Deterred" http://criminalthinking.wordpress.com. The module is meant to be a companion to the Criminal Thinking Error worksheets available for free on the Criminal Thinking Therapy website.
About CriminalThinking.net:
The Criminal Thinking Therapy Resource website was developed and is maintained by Brian Loebig in collaboration with technology T.E.A.M. partners: Robert Dorfman of Peregrine Associates, Ted Tyree of TheWebsiteParkingLot.com and Lamar Childs of BMG Technology.
Author of CriminalThinking.net, owner of LoebigInk.com and part-time Technology Manager for the Alliance for Performance Excellence, Brian has over 15 years of experience working as a practitioner and administrator in the corrections, substance abuse and human services fields with a special emphasis on technology. He continues to work with numerous community-based non-profits as a web technology consultant, board member and volunteer.
The CriminalThinking.net site has been developed collaboratively by practitioners, in the corrections and substance abuse treatment fields, who have offered content, recommended links, suggested improvements and provided information. All primary material is provided free of charge. Supplemental materials are offered for a fee and help with the development and creation of new materials on the site.