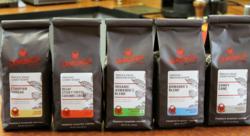 "Central to our redesign is the coffee plant, which symbolizes our passion for coffee, roasting and the sustainability of coffee growers," Greg Ubert.
Columbus, OH (PRWEB) October 18, 2012
Crimson Cup Coffee and Tea, a Columbus-based artisanal coffee roaster and coffee franchise alternative, has rolled out a new brand identity that emphasizes its 21 years of specialty coffee expertise, focus on sustainability and commitment to community. The rebranding initiative is carried out through new package designs, retail displays and an updated website featuring regular blog posts on coffee, tea and running a coffee shop.
"Central to our redesign is the coffee plant, which symbolizes our passion for coffee, roasting and the sustainability of coffee growers," said Greg Ubert, founder and president. "This is carried into the warm, rich brown base color of our packaging.
"The coffee cherries on the plant are the inspiration for our name, Crimson Cup," he added. "When the cherries that hold the bean become ripe and ready for picking, they turn this brilliant red, crimson color."
Bright accent colors are drawn from a series of four original paintings by artist Michael Stillion, which illustrate Crimson Cup's dual mission: supplying the best coffee and coffee house products and teaching independent coffee house owners to be successful through Crimson Cup's franchise alternative program.
Retail displays feature the new colors and packaging as well as a photo of one of the small farms from which Crimson Cup sources its coffee. Select bags carry the photo of the small farmer who grew the beans.
"Community is at the heart of Crimson Cup – and that includes the community of small farmers and workers who grow our beans," Ubert said. "By traveling to the country of origin and buying beans directly from farmers, we're helping to increase the quality of life for the small farmers and their workers."
Weiland's Gourmet Market in the Columbus suburb of Clintonville is one of the first to install the display, which showcases Crimson Cup's wide variety of Fair Trade, organic, single-source, flavored and decaffeinated coffees – including the company's signature Armando's blend.
Crimson Cup's website and blog serve up fresh perspectives on sourcing, preparing and enjoying coffee and tea as well as suggestions for running an independent coffee shop. The blog posts draw from Ubert's experience in boosting success for hundreds of independent coffee houses across 28 states.
The company helps new coffee shops get off to a successful start – and helps existing coffee shops increase profitability – through its Seven Steps to Success franchise alternative program. Grounded in Ubert's book, Seven Steps to Success in the Specialty Coffee Industry, the program covers everything a business owner needs to run a successful coffee house. The program includes comprehensive, free on-site training, marketing materials, menu ideas and much more – all designed to help reduce costs, increase profits and eliminate potential headaches.
In keeping with Ubert's emphasis on community and giving back, the company offers the Seven Steps program at no charge to coffee shop clients.
"Helping independent coffee shops thrive is our passion, and we don't charge for sharing our passion," he said. "We don't charge franchise fees or make customers sign long-term contracts. Instead, we earn their business every day by supplying fresh, great-tasting coffee and syrups, delicious drink recipes, effective marketing ideas and materials, and ongoing consulting to ensure their long-term success."
About Crimson Cup Coffee & Tea
Since 1991, Crimson Cup Coffee & Tea has roasted and packaged quality, great-tasting coffee in Columbus, Ohio and taught independent business owners how to be successful in specialty coffee. In 2007, Crimson Cup opened its first company-owned coffee house, which joined a network of more than 350 independent coffee houses, grocers, college and universities, and food service operations across 28 states that serve Crimson Cup beverages. For more information, visit crimsoncup.com. ccct10/18/12