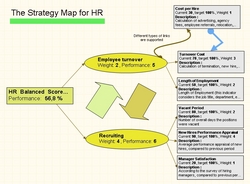 Our product has been designed as an ad-hoc solution for building balanced score cards. As distinct from ERP-class products, it's more affordable and more focused on really useful ideas behind balanced scorecard concept, such as strategy maps and cascading scorecards
Raleigh, NC (PRWEB) March 19, 2009
AKS-Labs today announces Balanced Scorecard Designer 3.0, a major upgrade to the company's powerful tool for building a balanced score card (BSC) system for a company, department or a sole person, making it easy to go from strategy to action.
Strategy maps are now supported in BSC Designer, providing user with ability to visualize indicators and perspectives. The program will not only allow to create and change properties of key performance indicators, but will automatically create a nice-looking visual map of the indicators, which is called strategy map. The map is a great way for sharing balanced scorecards for instance, using exported as a .jpg file map while presentation.
The program contains a special feature for generating reports in the HTML format. These HTML reports where information is represented as data tables and graphs give more clarity to strategy making process than before. The information may include the start and end performance, as well as performance dynamics. The new version supports the ability to build diamond-type charts. If necessary, the user can move from the root of the balanced scorecard tree down to categories and indicators.
Another improvement in version 3.0 is an ability to combine several scorecards, creating in this way cascading scorecards, BSC Designer can combine scorecards from various sources, including local disks, company network or online server.
The balanced score card is a strategic planning and management system that is used extensively in business and industry, government, and nonprofit organizations worldwide to align business activities to the vision and strategy of the organization, improve internal and external communications, and monitor organization performance against strategic goals.
Balanced Scorecard Designer 3.0 provides a powerful software environment to help you build a strategy tree of your company and connect your strategy with the new solution or goal. For every perspective and goal you can write a note telling what this goal is, how to measure it and what target values you are going to achieve. Then you add a score card, which helps you analyze some solution in terms of your strategy. The tree represents indicators of the balanced score card (also known as KPI), each of which has a set of numerical values. Depending on the specified numerical values and weight of the indicators, the program calculates current progress. The generated balanced score card can then be exported to Excel for further analysis or to the HTML format with diagrams.
A well-written graphic interface of Balanced Scorecard Designer and its reports will help you to visualize indicators for convenient analysis. And the possibility to work with the data spread over time allows managers to analyze success and failures from the history of the company, relying on the indicators, analyze a current situation and plan future goals.
The product is well supported and documented. Its website offers a rich commercial library of metrics, which are available in the proprietary file format and Excel. These metrics have been created based on the results of analyzing the indicators from various areas of business and allow executives or managers to create their own set of indicators, relying on the time-proved indicators that worked well in other companies from the similar business area.
"Our product has been designed as an ad-hoc solution for building balanced score cards. As distinct from ERP-class products, it's more affordable and more focused on really useful ideas behind balanced scorecard concept, such as strategy maps and cascading scorecards", said Bob Elliott, CIO, AKS-Labs.
Pricing & Availability
Balanced Scorecard Designer 3.0 runs under Microsoft Windows 98, NT, 2000, XP, ME, Vista and requires MS Excel to be installed if the user needs to export to Excel. More information on the product, as well as a free evaluation copy is available from http://www.strategy2act.com.
###