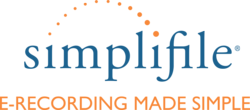 The process has been seamless for the office, and we now provide 24/7 filing access for land records in Crisp County.
CRISP COUNTY, Ga. (PRWEB) February 28, 2013
The Office of Crisp County Clerk of Superior Court is now accepting land documents for e-recording through Simplifile, the largest e-recording service provider in the nation.
Land document submitters, such as title companies, attorneys, and banks, may now send their paperwork electronically to the clerk's office for digital recording using Simplifile. This online recording method provides a more cost-effective and time-saving option for submitters who traditionally deliver their time-sensitive documents in person, by express mail or courier service to the clerk's office.
"We are proud to be the first clerk's office in Georgia to provide e-recording through Simplifile and Xerox State & Local Solutions Inc., our records management service," said Jean Rogers, Crisp County Clerk of Superior Court. "The process has been seamless for the office, and we now provide 24/7 filing access for land records in Crisp County."
E-Recording not only benefits those who submit documents, but it also streamlines the workflow at the recording office by eliminating tedious tasks such as scanning, stamping, and return mailings, among other time-consuming tasks.
"As a company, we are dedicated to providing the best e-recording service for our customers," said Paul Clifford, president of Simplifile. "We are always thrilled to learn how using Simplifile not only reduces recording times, but truly improves their overall workflow and recording process every day."
Simplifile's e-recording service is also available in Clarke, Forsyth, Henry, McDuffie, Muscogee, Toombs, and Wilkes counties in Georgia as well as more than 820 additional recording jurisdictions throughout the U.S.
Simplifile provides 24/7 support and training for all e-recording customers. For more information about e-recording with Simplifile call 800-460-5657 or visit simplifile.com.
About Simplifile
Simplifile is the nation's largest and fastest-growing e-recording service, supporting thousands of e-recording customers including title companies, banks, attorneys, lien filers, and other organizations that create and submit documents to more than 825 local, state, and federal government jurisdictions nationwide. Simplifile's electronic document services save time and the expense associated with traditional document submission methods. Simplifile is focused on building the industry's largest and easiest-to-use e-recording service for organizations of all shapes and sizes. More information about Simplifile may be found at simplifile.com or by calling 800-460-5657.
"Simplifile" is a registered service mark of Simplifile, LC.
# # #