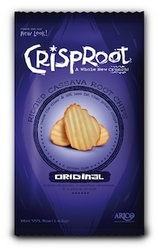 We're excited that working with Alice.com will provide new purchasing options to our customers.
San Diego, CA (PRWEB) March 8, 2011
Arico Natural Foods, the snack pioneers who launched the first cassava chips on the American market, today announces the availability of CrispRoot™ chips through Alice.com, an online retail platform offering shopping convenience, benefits, and free shipping.
CrispRoot chips are a better-for-you snack with a third less fat and double the fiber of potato chips. Each of CrispRoot chips' four flavors—Sea Salt, Original, Barbeque Bliss, and Thai Ginger—will be available for purchase by the individual bag (5 oz.) at crisproot.com.
"We're excited that working with Alice.com will provide new purchasing options to our customers. Now they'll be able to place smaller orders, get free shipping, and order other great items at the same time," says Angela Ichwan, owner and Chief Flavor Maker.
CrispRoot chips are made from the roots of the Cassava shrub, a drought-tolerant staple that sustains some 800 million people. It goes by many names including yuca or manioc. "At CrispRoot, we just call it delicious!" explains Angela Ichwan.
"Thanks to Alice.com, I have a few moments to myself," says Heather Fleming, mother of one-year old twins in Portland, Oregon. "Registering and placing my order on Alice.com was a breeze. And having CrispRoot chips, diapers and baby products shipped free and delivered to my front door was beyond cool. I now have time for a cup of coffee and writing out my list of what to order next from Alice.com."
About Arico Natural Foods
Arico Natural Foods introduced Cassava Chips to the American market in 2007. In 2011 it launched its second-generation—chips renamed CrispRoot and reformulated with ridges for great dipping and a whole new crunch. With family ties to Indonesia, where cassava is sustainably grown, the CrispRoot team nurtures every aspect of the chip making process from tree to table. No artificial ingredient will ever be added to its products. CrispRoot chips are distributed online through alice.com and through natural grocers such as Whole Foods and Sprouts Farmer's Markets nationwide. For more information, visit Arico at crisproot.com.
About Alice.com
Alice.com is an e-commerce platform and online marketplace for household essentials. As a leading provider of online retail and interactive marketing services for the Consumer Packaged Good (CPG) industry, Alice.com offers manufacturers a direct to consumer platform that provides shoppers with competitive pricing, free delivery, instant coupons, and simple automation and management of household purchases. And, with its free iPhone app, all of this is available on-the-go. Alice.com is privately held and headquartered in Middleton, Wisconsin.
###