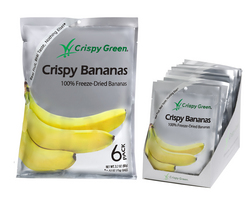 I can't stand mushy bananas! And I think I'm not alone
Fairfield, NJ (PRWEB) March 5, 2009
Crispy Green Inc., the maker of Crispy Fruit premium, freeze-dried fruit snacks, today announced the launch of Crispy Bananas, the newest addition to Crispy Green's all-natural, award-winning and innovative line of Crispy Fruit snacks.
Crispy Bananas are made of 100% high quality, freeze-dried banana slices - and nothing else. These all-natural snacks contain no added sugar, preservatives, colors, flavors, fat or cholesterol and have been certified kosher-parve by Shatz Kosher Services. Crispy Bananas are also peanut/tree nut-free, dairy-free for Vegans and gluten-free for people who suffer from gluten sensitivity.
Available in moisture-free, convenient single serving size and the handy 'Grab & Go' 6-PACKs, Crispy Fruit offers the wholesomeness and natural goodness of fresh fruit in small, snack-sized portions.
Healthy Fruit Alternative
Each single-serving size of Crispy Bananas (0.53 oz) contains approximately one-large sliced banana and 2 grams of dietary fiber with just 13 total carbohydrates. Unlike traditional banana chips, Crispy Bananas are packed with the same natural sweetness, flavor and aroma that you find from fresh, ripe bananas in a light and crunchy taste.
"I can't stand mushy bananas! And I think I'm not alone," says Angela Liu, President and Founder of Crispy Green. "Crispy Bananas offer healthy, natural bananas at your fingertips anytime without the messiness. Quality is Crispy Green's obsession and we are committed to providing consumers with only the most delicious, wholesome snacks they have come to expect from Crispy Green."
Crispy Bananas are the perfect 'go anywhere' snack and are easy to tuck into a lunchbox, backpack or briefcase. The product's portability and long shelf life make Crispy Bananas the smart choice for consumers who are seeking a healthy snack alternative to traditional snack foods.
The product can also be enjoyed in hot cereal, muffins, banana bread, scones and cookies. To learn about other creative ways to enjoy Crispy Fruit, please visit http://www.crispygreen.com/Press/Ways_to_Enjoy.pdf
Crispy Fruit is also available in three other delicious, snackable flavors: Crispy Apples, Crispy Pears and Crispy Pineapples. All of Crispy Green's Crispy Fruit products can be found in the produce and grocery aisles of many leading supermarkets and natural and specialty food stores located throughout the United States. To find a Crispy Green retailer in your area, go to http://www.crispygreen.com/storelocator/main.html. Crispy Green can also be purchased online at http://www.amazon.com or at the Crispy Green Web site at http://www.crispygreen.com/onlinestore.html.
About Crispy Green:
Crispy Green Inc. (http://www.crispygreen.com) is the maker of Crispy Fruit freeze-dried fruit snacks sold under the brand Crispy Green® and is a leader in this category of products. The company was founded in August 2004 with a core mission to provide delicious, healthy and wholesome snacks using the best natural ingredients with no artificial flavor enhancement.
The Crispy Fruit line of snacks are made of real fruit, real taste, nothing else!® A sophisticated freeze-drying process removes the water from fresh, sweet fruit, leaving behind the fruit's true essence in a light and crispy texture that's perfect for snacking. Crispy Green Crispy Fruit are a delicious, convenient way to add more fruit to your daily diet.
In 2005, Crispy Green introduced its line of Crispy Fruit in the United States. Since then, Crispy Green has been adding one new product each year to its Crispy Fruit product line to meet its rapidly growing distribution footprint.
# # #