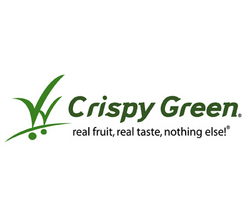 In the past, we were taught to resist snack cravings because of the negative health benefits associated with snacking. But Crispy Green has helped to change that perception
Fairfield, NJ (PRWEB) August 2, 2007
Crispy Green Inc., the maker of Crispy Green® Crispy Fruit premium, freeze-dried fruit snacks, today announced that Crispy Fruit snacks fit into a healthy diet and offer a fun and creative way to satisfy your snack cravings.
According to Food Processing magazine, fruit is one of the most highly craved foods, fitting between cheesecake and steak. Yet consumers still aren't eating enough fruit in their diet to satisfy USDA recommendations (about two cups of fruit a day), often because they think it is inconvenient or time consuming to prepare. Crispy Green Crispy Fruit provides a great alternative -- snacking on Crispy Fruit is a fun and convenient way to increase your daily fruit intake.
Crispy Fruit freeze-dried fruit snacks are made of real fruit and nothing else! They contain 100% high quality, freeze-dried fruit with no additives, preservatives, fat or cholesterol. The freeze-drying process removes water from the fruit while preserving the nutrients (i.e. vitamins and antioxidants) to maintain its nutritional value and intensify its natural, sweet flavor.
"In the past, we were taught to resist snack cravings because of the negative health benefits associated with snacking. But Crispy Green has helped to change that perception," says Angela Liu, President and Founder of Crispy Green. "When you have to satisfy that snack craving, give in and take a bite of Crispy Green. Crispy Green makes it possible to have great taste and nutrition in a healthful treat that will satisfy your snack cravings."
Natural Fruit at Your Finger Tips Anytime
Crispy Fruit is available in a single-serving size and each bag equals approximately one serving of fruit with less than 40 calories and the handy 'Grab & Go' 6-PACKs which contain six single-serving bags in one convenient package in four delicious flavors: Crispy Apples, Crispy Apricots, Crispy Peaches and the newest taste sensation, Crispy Pineapples. These light, crispy, tasty, all-natural fruit slices are packed with intense fresh fruit flavor and offer a healthy alternative to chips and sugary snack foods. Crispy Fruit is a craveable, delectable treat that lets you feel good about snacking.
Crispy Green's moisture-free, convenient packaging was designed to accommodate a consumer's hectic lifestyle and offers the healthfulness of fruit and is easy to consume on the go like other common snack foods. Its portability and long shelf life makes it the perfect choice as a snack 'on-the-go' as well as a snack to keep in a child's backpack, school locker or lunchbox and the ideal 'emergency snack' to keep in a briefcase, backpack, overnight bag, carry-on luggage or purse. Crispy Fruit is the snack for all occasions and puts a healthy, natural fruit conveniently at your fingertips anytime. Click here to learn about other creative ways to enjoy Crispy Fruit.
Crispy Green's line of Crispy Fruit products can be purchased at supermarkets, natural and whole food stores and fine food stores throughout the United States. To find a Crispy Green retailer in your area, go to http://www.crispygreen.com/storelocator/main.html. Crispy Green can now also be purchased online at http://www.Amazon.com or at the Crispy Green Web site at http://www.crispygreen.com/onlinestore.html.
Recently, Crispy Green's Crispy Apples was named as a 2007 sofi™ Awards Finalist for Outstanding Snack Food by NASFT (National Association of Specialty Food Trade). Food & Wine Magazine named Crispy Fruit as 'one of the tastes you must try in 2007,' Supermarket Guru Phil Lempert praised Crispy Apples as a 'Rising Star' and Women's Health Magazine named Crispy Fruit as one of their favorite 'quick fix' diet aid sweet treats. In August 2006, TIME Magazine named Crispy Fruit as one of the new, healthier foods for kids and The New York Times says, "They're terrific for hikers, to add to morning cereal and for camp and school lunchboxes." Crispy Green has quickly won fans among health and quality-conscious consumers of all ages.
About Crispy Green
Crispy Green Inc. (http://www.crispygreen.com) is the maker of Crispy Fruit freeze-dried fruit snacks sold under the brand Crispy Green® and a leader in this category of products. The company was founded in August 2004 with a core mission to provide delicious, healthy and wholesome snacks using the best natural ingredients with no artificial flavor enhancement.
The Crispy Fruit line of snacks are made of real fruit, real taste, and nothing else!® A sophisticated freeze-drying process removes the water from fresh, sweet fruit, leaving behind the fruit's true essence in a light and crispy texture that's perfect for snacking. Crispy Green Crispy Fruit are a delicious, convenient way to add more fruit to your daily diet.
In 2005, Crispy Green introduced Crispy Apples, Crispy Apricots and Crispy Peaches in the United States. In 2007, Crispy Green launched its newest addition to its all-natural, healthy Crispy Fruit product line -- Crispy Pineapples. It plans to add 1-2 new items to its product line each year for the next few years along with its rapidly growing distribution footprint.
# # #