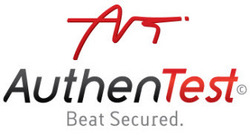 We look forward to providing Criterion HPS with our strong authentication structure to further protect their customers from the dangers of hacking
Miami, FL (PRWEB) April 30, 2009
AuthenWare, a leader in next-generation security software, today announced Criterion HPS will resell AuthenWare within The Cube™, their high-speed, small-footprint computing appliance. With over 600 gigaflops of performance, 8 terabytes of storage and weighing less than sixty pounds, The Cube is a mobile supercomputer constructed to withstand the most rugged conditions. Equipped with AuthenWare's keystroke dynamics technology The Cube is now able to defy the most sophisticated identity and information attacks.
"We look forward to providing Criterion HPS with our strong authentication structure to further protect their customers from the dangers of hacking," said Tom Helou, President of AuthenWare. "Our approach to eSecurity does not rely on knowing or having specific information or devices; instead, we identify an individual by observing the way they naturally behave - a characteristic that cannot be stolen or replicated. AuthenWare is excited to share this added layer of protection with Criterion HPS and their clients."
The agreement allows Criterion HPS to augment cyber-protection in their computing appliances by incorporating AuthenWare's identity authentication technology into their supercomputers. A collection of Criterion HPS devices will be pre-configured with AuthenWare's keystroke dynamrics software in order to supply consumers with a user-ready product.
Criterion HPS Chief Operating Officer, Mike Dillard stated, "We are pleased to be partnering with Authenware as their technology allows us to deliver additional layers of assurance to our customers who often require the highest levels of IT security available." He added, "This technology offers a powerful, biometric authentication capability that is uniquely flexible because it is location, platform and application independent."
About Criterion HPS
Headquartered in Vienna, VA, Criterion HPS is a wholly-owned subsidiary of Criterion Systems, Inc., a leading provider of information technology services to government and commercial clients. Criterion HPS enables organizations to efficiently deploy high performance solutions anytime, anyplace. The Criterion HPS mission is to help our customers deploy high performance solutions that are pre-configured, optimized and secure, thereby streamlining implementation and lowering total cost of ownership. For more information, visit http://www.criterion-hps.com.
About AuthenWare
AuthenWare is a leading innovator of keystroke dynamics software. Its identity authentication product recognizes valid users by calculating the unique rhythm and beat with which the typist keys in data (i.e. their username and password) on their computer keyboard. AuthenWare evaluates this information along with behavioral and environmental characteristics to keep hackers out and let authorized personnel in. With headquarters in Miami, the company services customers that span across international borders and business sectors, effectively providing security to industries such as financial services, government, transportation and logistics, manufacturing, and retail.
For more information or to request a demo, please visit our website at http://www.authenware.com.
# # #