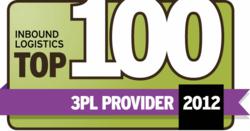 We are driven to excellence every day knowing the impact we have on each client's reputation for delivering premium, time-critical systems support
New York, NY (PRWEB) August 07, 2012
Choice Logistics, Inc., the leading provider of critical service parts logistics, announced today that the company has been selected as a 2012 Top 100 Third-Party Logistics (3PL) Provider by Inbound Logistics, an educational supply chain resource. The highly anticipated list identifies the solution providers best positioned to meet the challenges faced by supply chain executives.
"A key driver in our selection process is how a logistics solutions provider enables value for its customers," said Felecia Stratton, Editor, Inbound Logistics. "Choice Logistics is a business change agent that drives its customers' ability to provide premium technology support services, and that is why we are happy to recognize it as a 2012 Top 100 3PL Provider."
The "Top 100 3PL Provider" list serves as a qualitative assessment of service providers and identifies those best equipped to meet and surpass the evolving outsourcing needs of business logistics and supply chain executives. Each year, Inbound Logistics editors select the best logistics solutions providers by carefully evaluating submitted information, conducting personal interviews and online research, and comparing that data to its readers' burgeoning global supply chain and logistics challenges. This year's class of Top 100 3PL Providers was selected from a pool of more than 300 companies.
"A service organization's reputation is its most important asset, and we are driven to excellence every day knowing the impact we have on each client's reputation for delivering premium, time-critical systems support," said John LaHaye, Executive Vice President of Business Development for Choice Logistics. "We are pleased that our commitment has been recognized by this prestigious trade publication."
About Inbound Logistics
Inbound Logistics is the leading trade magazine targeted toward business logistics and supply chain managers. The magazine's editorial mission is to help companies of all sizes better manage corporate resources by speeding and reducing inventory and supporting infrastructure and better matching demand signals to supply lines. More information is available at http://www.inboundlogistics.com.
About Choice Logistics
Choice Logistics provides customized logistics solutions that enable global technology manufacturers, value-added resellers, and third-party service organizations to meet the high-availability requirements of their customers. Its global network of strategic stocking locations, linked by dependable transportation solutions, a unified technology platform, and a performance-driven culture, turns time-critical systems support into premium service offerings that generate profitable revenues, build solid reputations, and strengthen customer relationships. To learn why service-driven companies such as Avaya, Bayer Healthcare, Canon, Cisco, Cox Communications, Dell, EMC, and Pendum trust Choice Logistics as their service parts logistics partner, call 800-861-6900, extension 4107, or visit the company's website at http://www.choicelogistics.com.