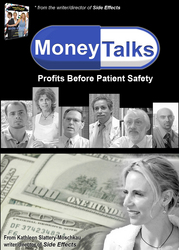 Money Talks presents a wealth of unsettling information and forward-looking ideas about one of the most urgent issues facing our country today. This film should be required viewing for anyone concerned about the complexities and failings of the American health care system
Madison, WI (PRWEB) January 24, 2008
The American Library Association Video Round Table Committee has announced their top picks for the "2008 list of Notable Videos for Adults." Among the committee's 15 choices was the award-winning and timely documentary Money Talks: Profits Before Patient Safety by critically acclaimed filmmakers Kathleen Slattery-Moschkau and Holly Mosher. The film offers compelling insight into the questionable marketing tactics of the pharmaceutical industry.
"Money Talks presents a wealth of unsettling information and forward-looking ideas about one of the most urgent issues facing our country today. This film should be required viewing for anyone concerned about the complexities and failings of the American health care system," said Meghann Matwichuk, University of Delaware, Media Librarian / Video Round Table Notable Videos for Adults Committee Member.
Each year the committee selects top educational and instructional titles based on criteria that include expanding the viewers' knowledge, clarifying a difficult topic, and contributing to the solution.
The 50-minute documentary explores the pervasiveness of drug industry influence through featured interviews with medical community heavy-hitters, including Harvard's Dr. John Abramson, author of Overdo$ed America; Columbia University's Dr. Bob Goodman, founder of the 'No Free Lunch' program; Alex Sugerman-Brozan, director of Prescription Access Litigation; and Dr. Jerome Hoffman of UCLA Medical School.
Money Talks: Profits Before Patient Safety is Slattery-Moschkau's and Mosher's second film about the issues within the pharmaceutical industry. Their internationally acclaimed debut film Side Effects, starring Katherine Heigl, was a fictional look at writer/director Slattery-Moschkau's decade working as a sales rep for two of the nation's top drug companies.
Most recently, the two outspoken consumer health advocates launched Be Well Media, a nonprofit media production and promotion company focused on healthcare education via entertainment.
Money Talks: Profits Before Patient Safety is available on DVD, or as part of an educational viewing package at http://www.moneytalksthemovie.com.
###