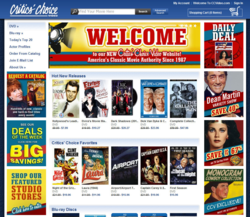 "...entertainment hounds will surely love price-drop alerts"
(PRWEB) October 28, 2012
The redesigned Critic's Choice Video website puts customers first with an attractive new lay out and vastly improved features to simplify shopping for TV shows and movies.
Customers will be greeted by a handsome homepage that offers a daily deal, the top selling movies and TV shows on Blu-ray and DVD and special offers on films and TV shows. Improved website navigation will quickly help customers find their favorite programs and films. Improved category browsing will make exploring new movies more fun. Plus, new mouse-over product detail displays save customers a click to see plot descriptions and prices.
Another new feature entertainment hounds will surely love is price-drop alerts. If a customer spots a DVD or Blu-ray disc they like but want to see if waiting will get them a better deal, she can sign up with her e-mail address on that specific title and be notified if and when the price goes down. The customer can even name the discount they are looking for and not receive a notice until that product reaches the preselected discount price!
Critic's Choice Video's updated website will even make recommendations based on search and purchase history to help customers find new artists and movies they might not have previously considered.
Critic's Choice Video is a web and catalog retail company. The brand caters to the entertainment loves and needs of people who love movies and TV shows, with an emphasis on classic entertainment. It specializes in featuring the most hard-to-find movies and TV programs of yesteryear, along with all of the latest modern releases.