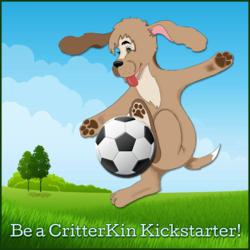 There are more than 30 activities in CritterKin that make it not only entertaining but educational as well." - Vanessa Budnick, SPCA Humane Educator
Cary, North Carolina (PRWEB) April 25, 2013
The team of multi-media/techno geeks storytellers, collectively known as the "Startled Cats," announced today that they are moving into canine territory with the launch of their CritterKin Kickstarter campaign. Designed for children between the ages of 6 and 10, CritterKin is an entertaining, educational and interactive mobile app that teaches the joys and responsibilities of caring for a dog. The Startled Cat team is raising funds to hire animators and computer programmers.
"I'm proud to say that Startled Cat has a diverse and multi-talented team of storytellers, illustrators, filmmakers, musicians, audio experts, technical wizards and visionary thinkers," says Martin Keltz, himself an Emmy award winning producer of such celebrated children's TV shows as "The Magic School Bus," "Goosebumps," and "The Babysitter's Club." "The two things we lack are animators and programmers who will make it all run on smart phones and tablets - hence the Kickstarter fundraising campaign."
According to Jena Ball, Startled Cat's creative lead and the writer and illustrator on the project, CritterKin will address a large and urgent need. "CritterKin originally evolved out of conversations with friends who felt torn about getting a dog for their kids," says Ball. "They wanted their kids to have the experience of caring for a pet, but worried about the work involved. Then I began talking to the humane educator at my local SPCA and discovered that lack of education means that a lot of adoptions fail. Dogs are returned to shelters when families discover they aren't prepared to care for a pet. That's when it hit me – wouldn't it be great if there was a fun, easy-to-access and affordable app that would teach kids and their families about how to take care of a dog before they adopt?"
Ten months and many hours later, Startled Cat and its collaborators at the SPCA of Wake County – a facility known for its commitment to education and creative outreach to its community – have created a fun, interactive, story-driven curriculum for the CritterKin app. "There are more than 30 activities in CritterKin that make it not only entertaining but educational as well," says Vanessa Budnick, the SPCA's Humane Educator. "Kids who complete the program receive a digital certificate of completion, and parents are encouraged to learn with their kids."
The Startled Cat Kickstarter campaign launched today and will run for 30 days. To learn more about the campaign, meet some of the spunky CritterKin pups, and see the creative rewards being offered to those who donate, go to http://kck.st/10Aa3iU or call Jena Ball at 919-535-8472.