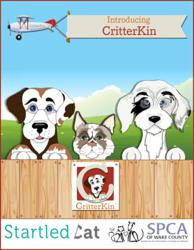 CritterKin will not only puppy train kids, but encourage adoption of dogs into forever homes."
- Jena Ball, CritterKin Creative Lead
Cary, North Carolina (PRWEB) April 09, 2013
Startled Cat, Inc. a company known for its innovative use of new media to tell stories, announced today that it is collaborating with the Humane Education team at the SPCA of Wake County, NC to produce a new mobile app for kids. Known as CritterKin, the app is designed for children between the ages of 6 and 10, and uses fun, interactive stories, games and puzzles to accomplish three goals:

Teach the basic facts of puppy care.
Encourage children to bond and identify with the CritterKin characters, thereby learning empathy, understanding and respect.
Provide engagement points for parents and kids that expand upon and reinforce the topics covered in the CritterKin lessons.
Vanessa Budnick, the SPCA's Humane Educator who develops and teaches a variety of classes on animal welfare and rescue for the SPCA, sees the collaboration as a great way to expand her outreach. "The biggest problem I face in my job," says Budnick, " is that there is only one of me, and my ability to reach out to the community is limited. CritterKin will allow me to combine my knowledge with wonderful stories and artwork that can reach kids and their families everywhere."
The CritterKin concept was first developed by Jena Ball, the Creative Director at Startled Cat. "CritterKin is based on my childhood experiences with our pets," says Ball. "Our dogs and cats were my playmates and teachers, so I know why parents want their kids to have that experience. On the other hand, I sympathize with their concerns. Pets are a BIG commitment."
In addition to helping kids and families be better prepared to bring a pet into their home, CritterKin's creators hope the app's overall messages will encourage adoption of pets into forever homes.
"One of the terrific things that happens when you combine a good story, lovable characters and a solid curriculum is that you are able to have a real impact on attitudes, "says Martin Keltz, Emmy Award-winning producer of the Magic School Bus and the Co-Founder and President of Scholastic Productions, Inc. "We saw it happen with the "Magic School Bus," which was created to help girls believe they could be scientists, and we think it can happen again with CritterKin."
The CritterKin team is currently preparing to launch a Kickstarter campaign at the end of April to raise the final funds needed to hire the animators and coders who will make the stories and characters run on smart phones and tablets. To learn more about CritterKin and its grassroots, community based fundraising efforts, visit http://www.critterkin.com or call Jena Ball at 919-535-8472.,