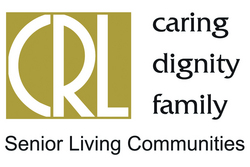 The ability for residents to join the CRL family and to thrive, not just survive, in our communities is a mission that all of us take extremely seriously here at CRL.
Neenah, WI (Vocus) March 4, 2010
CRL Senior Living Communities, a leader in innovative senior housing, has released its Clinical Report Card for the second half of 2009, which lists several key clinical accomplishments.
"CRL's exceptional nutritional and dining programs have minimized weight loss and eliminated dehydration in our communities when compared to others," said Dr. Paul Hankwitz, chairman of CRL's Clinical Advisory Board. "Nutrition and our CRL life enhancement activities have contributed to a significantly lower incident of pressure ulcerations when compared to our peers. A number of variables, including CRL's life enhancement activities, have led to a significantly lower use of anti-anxiety, anti-psychotic and hypnotic medications by CRL residents when compared to other communities."
CRL, known for its all-encompassing care model based on six stimulation pillars, is pleased to share the following outcomes from July to December 2009 for its residents in both Residential Care Apartment Complexes (RCACs) and Community Based Residential Facilities (CBRFs):

Avoiding Undesired Weight Loss, Maintaining Hydration Through Nutrition Program: CRL's all-natural nutritional program continues to help residents maintain a healthy weight; weight loss occurs in approximately 3% of CRL CBRF residents relative to 9.5% in competing communities; weight loss occurs in less than 1% of CRL RCAC residents; no cases of dehydration are reported among CRL residents
Limiting Pressure Ulcers: CRL residents' probability of acquiring a pressure ulcer is 85% less likely than in competing communities
Reducing Falls: Prevalence of resident falls in CRL RCAC communities is approximately 30% lower than in competing communities
Lowering Instances of Incontinence: CRL residents are 50% less likely to be incontinent relative to residents in competing communities
Decreasing Reliance on Medications: Prevalence of CRL RCAC resident utilization of anti-anxiety and hypnotic medications is 40% lower than for residents in competing communities; prevalence of CRL RCAC resident utilization of anti-psychotic medications is 75% lower than for residents in competing communities
Managing Diabetes: Through the CRL comprehensive diabetic program, usage of hypoglycemic medications, as required by sixteen CRL residents with diabetes, declined during the six-month period
"I am proud of the cooperation of all our residents, their families and our staff for the effort that goes into making clinical improvements a reality," said Penny Pagel, CRL director of clinical services. "Many senior living communities do not collect or share this depth of information. It's critical for improving care, and I believe the very positive results at CRL speak for themselves."
Competing data is drawn from Centers for Medicare & Medicaid Services (CMS) data reported at http://www.medicare.gov for Wisconsin and Illinois, the states in which CRL operates. CRL began collecting its own comprehensive data in 2009, making this its first complete six-month report.
"I continue to be very impressed with the overall quality of care provided to our residents," said Michael Munter, CRL chief operating officer. "The ability for residents to join the CRL family and to thrive, not just survive, in our communities is a mission that all of us take extremely seriously here at CRL."
Munter will continue advocating for the establishment of industry-wide quality of care rankings as part of his work on the board of directors for the Wisconsin Assisted Living Association (WALA). He joined the board in 2009 and has been appointed to an additional two-year term.
A seasoned healthcare executive, Munter has strong general management experience in finance, operations, marketing and business development. Having worked for one of the largest privately owned senior housing companies in the country, he has a passion for providing seniors with the highest level of customer service and quality clinical care. As a representative of CRL Senior Living Communities, Munter will continue providing input and direction into furthering the mission of WALA.
About CRL Senior Living Communities
At CRL Senior Living Communities (http://www.crlcares.com), it is the company's mission to provide new standards of therapeutic excellence in senior living by providing the best in healthcare through consistently blending nutrition, spiritual, mental and physical stimulation in an environment rich with safety, comfort, activities and a nurturing atmosphere.
With offices in Neenah, Wis., and Chicago, Ill., CRL Senior Living Communities specializes in operating and managing state-of-the-art senior care residences that deliver the highest standard of care in specially designed therapeutic environments. Watch a video highlighting a CRL community. The company meets the needs of seniors with independent living, assisted living and Alzheimer's/memory care communities. CRL currently owns and operates 14 communities in Wisconsin including Neenah, Oshkosh, Sheboygan, Sheboygan Falls, Menomonee Falls, Kenosha, Greenfield, Green Bay, DeForest; and 2 in McHenry, Ill.
###