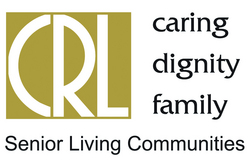 These results demonstrate that our data-driven, team-based approach to improving the health and well-being of our residents is clearly paying off.
Neenah, WI (Vocus) July 8, 2010 —
A continued focus on comprehensive resident care has helped CRL Senior Living Communities improve on its already strong clinical outcomes in several key areas, according to the organization's Clinical Report Card for the first quarter of 2010.
CRL, which owns and operates 16 senior housing communities in Wisconsin and Illinois, achieved improved results in weight loss, diabetes, acute hospitalizations, hip fractures, incontinence and anti-anxiety medications over the second half of 2009, when it released its first report card.
"These results demonstrate that our data-driven, team-based approach to improving the health and well-being of our residents is clearly paying off," said Mike Munter, chief operating officer of CRL. "We're extremely proud of the numbers we're seeing, and our organization remains committed to continually building on our performance going forward."
The report card revealed the following outcomes for CRL residents in the Residential Care Apartment Complexes (RCACs) and Community Based Residential Facilities (CBRFs) categories:

Avoiding weight loss: Residents in CRL's CBRF communities had a 1.1 percent chance of significant weight loss, compared to a 9-month trailing average of 2.3 percent and an industry average of 9.2 percent.
A drop in acute hospitalizations: The prevalence of acute hospitalizations fell 15 percent in RCAC communities versus the 9-month trailing average.
Improved diabetes management: For the third straight quarter, diabetes medications decreased as a result of residents adopting healthier lifestyles.
Reduction in incontinence: Diagnoses of incontinence dropped 40 percent compared to the second half of 2009. Its prevalence was roughly a third that of peer facilities.
Fewer anti-anxiety medications: Utilization of anti-anxiety and hypnotic medications dropped 20 percent from the last report card. Anti-psychotic medications were used 75 percent less than competing communities.
Each month, CRL collects competitive data for Wisconsin and Illinois senior housing from the Centers for Medicare & Medicaid Services (CMS) Web site, http://www.medicare.gov. The medical director and clinical team at each community compare the findings to their own outcomes and set targeted goals for improvement. In the second half of 2009, the organization condensed third- and fourth-quarter results into its first Clinical Report Card.
"The data contained in the report card has been an important tool for measuring and improving our specialized programs for diabetes, fall prevention and incontinence," Munter said. "Tracking outcomes against not only our peers, but our own past performance, helps CRL to continually develop industry-leading practices."
"CRL's monthly meetings with staff and medical directors are a chance to review patient hospitalizations, falls, behavior changes, fractures and medication errors," said Dave Ringdahl, M.D., CRL Medical Director of Parkside Independent and Assisted Living and member of CRL's Clinical Advisory Board. "Out of this monitoring, we have put in place initiatives to help reduce undesirable outcomes and keep patients healthier."
At the heart of CRL's philosophy of care are six stimulation pillars that focus on the social, mental, physical, spiritual and nutritional needs of residents. Each of its communities emphasizes frequent activities and opportunities for social interaction, as well as a diet based on all-natural foods.
About CRL Senior Living Communities
At CRL Senior Living Communities (http://www.crlcares.com), it is the company's mission to provide new standards of therapeutic excellence in senior living by providing the best in healthcare through consistently blending nutrition, spiritual, mental and physical stimulation in an environment rich with safety, comfort, activities and a nurturing atmosphere.
With offices in Neenah, Wis., and Chicago, Ill., CRL Senior Living Communities specializes in operating and managing state-of-the-art senior care residences that deliver the highest standard of care in specially designed therapeutic environments. The company meets the needs of seniors with independent living, assisted living and Alzheimer's/memory care communities. CRL currently owns and operates 14 communities in Wisconsin including Neenah, Oshkosh, Sheboygan, Sheboygan Falls, Menomonee Falls, Waukesha, Kenosha, Greenfield, Green Bay, DeForest; and two in McHenry, Ill.
###