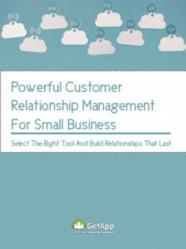 To guide small businesses on the path to building better customer relationships, we have released an eBook to help small businesses getting the best out of CRM."
Barcelona, Spain (PRWEB) August 08, 2012
Customer service relationship management (CRM) goes a lot further than collecting a few emails, or even answering a few complaints, it's about building long lasting relationships and developing a truly customer centric strategy.
GetApp has build an eBook to help small businesses understand the basics of CRM and how to choose and implement the right CRM solutions for their specific needs.
The eBook is co-authored by GetApp and ThinkAboutCRM with helpful advices from experts like Becky Caroll from Customers ROCK, Paul Greenberg and Esteban Kolsky from ThinkJar.
"Any small business that does not have good CRM in place is at risk of losing business," said Christophe Primault, CEO of GetApp. "To guide them on the path to building better customer relationships, we have put together a free eBook to help small businesses getting the best out of CRM."
The eBook tackles key areas that small businesses should address when implementing a CRM approach such as:
How To Get Started With Customer Relationship Management.
What are Customer-Centric Strategies
How To Integrate Social Media Into Existing CRM Strategies For A Better Customer Relation
What Is A Cloud-based CRM Application
What Is The Difference Between A CRM And A Social CRM Application
What to Avoid When Implementing A CRM
How To Organize The Data In A CRM
What To Consider When Choosing The Right CRM Applications
Powerful Customer Relationship Management For Small Business can be downloaded at: http://www.getapp.com/download/customer-relationship-management-small-business.pdf (no data required)
About GetApp
GetApp is the largest independent online marketplace that helps small to mid-sized businesses and startups discover, evaluate and manage the perfect cloud business apps for their needs. Its mission is to support millions of users in their "best app" research with comprehensive directories, interactive search tools, side by side comparison tables, user reviews and app evaluation resources.
In addition, GetApp serves as a global online marketing channel for thousands of cloud business application developers.
Headquartered in Barcelona, Spain, GetApp operates primarily in North America and the U.K. It is privately owned and backed by Nauta Capital.