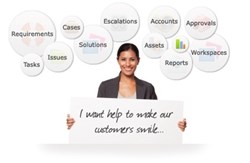 CRMnext, #1 Commutable Cloud CRM Software Releases Advanced Guided Selling Functionality
Delhi (PRWEB) December 11, 2013
CRMnext, commutable cloud CRM software, introduces advanced guided selling functionality to reduce customer churn and boost sales by enabling front-end sales teams with access to step-by-step information on product sales based on the customer queries and profile. CRMnext will also display key information related to customers on a real-time basis, thereby empowering agents to make informed decisions and optimize rapport building, while executing a sales call script. The new guided selling functionality will enable sales representatives to offer the best products to customers, reduce cycle time, increase close rates and increase profit through effective cross-sell and upsell.
The smart guided selling functionality will enable sales agents to easily create call scripts, through which a series of questions with their associated answers can be displayed to ensure that valid information is available. It will also ensure a better win-rate, as scores can be accurately assigned to each answer for a call script. Based on a minimum total specified score, customer facing teams will be able to qualify leads at a faster rate. Also, with the field mapping functionality, sales reps can efficiently auto-populate details to the CRMnext records, thereby avoiding re-work and increasing efficiency.
On the occasion, Dr Manoj Kumar, Product Architect, CRMnext, said, "Having an advanced guided selling functionality in place will help reduce customer churn and also empower the sales reps to adapt to the changing lifecycle of customers to offer the right product at the right time, which will in return help in increasing sales and boosting revenue."
About CRMnext:
CRMnext is a specialist Customer Relationship Management product company with focus on ultra-scalable installations. CRMnext team has proven track record of delivering High-Impact CRM solutions in their key practice vertical of Financial CRM, Banking CRM, Insurance CRM, Media CRM, Pharma CRM, Telecom CRM etc. Unlike commodity CRM, CRMnext has been widely recognized as a proponent of strategy driven implementations.
Know more about CRM Software by visiting http://www.crmnext.com/.