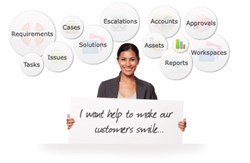 Comprehensive Customer 3600 View on the CRM Platform
Delhi (PRWEB) December 20, 2013
CRMnext enhances customer 360 Degree view capability on its commutable cloud CRM platform to deliver "One company" vision at large organizations to help maximize cross sell potential and deliver amazing customer experience at all touch-points. The high impact CRM software will enable organizations to avoid hopping between multiple systems to capture customer information, by empowering them to view customer details on a single user-interface. It will also enable organizations to maximize the customer lifecycle value by providing a comprehensive view of the customer including its profile, product holdings, offers, opportunities, service requests etc. on a single screen.
The advanced CRM software by CRMnext will help to create an effective 360 customer view on a single platform by proving reliable and out-of-the-box integration capability with core systems, line of business systems and other back-office systems. This will enable the sales, marketing and customer service teams to collaborate easily by providing a comprehensive view of customers across different departments. It will allow customer facing teams to make lead qualification and service request process smarter and increase first time resolution rates.
On the occasion, Dr. Manoj Kumar, Product Architect, CRMnext said, "A comprehensive 3600 customer view will enable organizations to accelerate business processes, build long-term customer relationships, derive business intelligence and boost engagement center efficiency."
About CRMnext:
CRMnext is a specialist Customer Relationship Management product company with focus on ultra-scalable installations. CRMnext team has proven track record of delivering High-Impact CRM solutions in their key practice vertical of Financial CRM, Banking CRM, Insurance CRM, Media CRM, Pharma CRM, Telecom CRM etc. Unlike commodity CRM, CRMnext has been widely recognized as a proponent of strategy driven implementations.
Know more about CRM Software by visiting to http://www.crmnext.com/