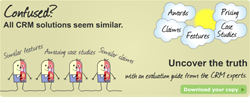 CRMnext Declared As The Winner Of CRM Watchlist 2014
Delhi (PRWEB) February 18, 2014
CRMnext, #1 commutable cloud CRM software was declared as the winner of CRM watchlist 2014. This award is organized by Paul Greenberg. This year was exceptionally competitive with 162 companies across the globe getting nominated. Over the years, these awards have recognized top companies in the CRM industry including products, system integrators and consulting partners.
It is an impact award organized by Paul Greenberg for the last five years and has gained some serious industry traction. Participating companies are SFA, marketing automation or customer service technology provider, an enterprise software provider, a social analytics provider, a tool that extracts the deeper meaningful and hidden relationships in a business, a knowledge management tool, a feedback system, a gamification system or any applications and services that are customer facing.
Paul Greenberg takes into account dozens of criteria related to the company and the market that the company chooses to participate in. Being the winner of CRM watchlist was very difficult this year, since to make an impact CRMnext had to be on top of mind of its prospects and the eco-system including analysts, customers, journalists, etc.
"We at CRMnext feel honored to win this highly coveted award. It is a testimony of the innovation we bring to the CRM space helping our clients to become increasingly customer-centric and power their growth strategies," said Sushil Tyagi, Global Director, Sales and Marketing, CRMnext.
About CRMnext
CRMnext is a specialist CRM product company with focus on ultra-scalable installations. CRMnext team has proven track record of delivering High-Impact CRM solutions in their key practice vertical of Financial CRM, Banking CRM, Insurance CRM, Media CRM, Pharma CRM, Telecom CRM etc. Unlike commodity CRM, CRMnext has been widely recognized as a proponent of strategy driven implementations.
To know more information about Cloud CRM Software, visit http://www.crmnext.com/.