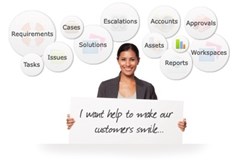 CRMnext Helps Large Banks and Insurance Companies to Increase Customer Retention
Delhi (PRWEB) November 15, 2013
CRMnext, Asia's # 1 provider of financial CRM solutions in the BFSI sector, helps large banks and insurance companies to increase customer retention, by providing a better understanding of customers, why they leave and compelling reasons for them to stay loyal through the data describing them. This helps to increase customer lifecycle value, and profitability. The advanced customer retention model enables an organization to record all the details pertaining to their customers' spouses' interest, kids' interest etc, which will help them to cross sell or upsell at the right time with the right offer.
The customer retention model helps an organization to continuously have back-and-forth collaboration through social media platforms, where a two-way communication takes place to effectively understand what a customer wants. It also allows an organization to accurately design programs that involves providing a customer with certain services or incentives to prevent them from churning. The new model enables businesses to focus on both, one-to-one interactions and face-to-face exposure with customers, build rapport and make them feel that they are valued.
On the occasion, Dr Manoj Kumar, Product Architect, CRMnext said, "Retaining existing customers proves to be more profitable than acquiring new customers and satisfying their needs. Having an effective customer retention model using CRMnext will help to promote customer loyalty and satisfaction. Also, as current customers do not wait for price reductions or promotions before making a purchase, organizations can make maximum profit through the concept of image pricing".
About CRMnext:
CRMnext is a specialist Customer Relationship Management product company with focus on ultra-scalable installations. CRMnext team has proven track record of delivering High-Impact CRM solutions in their key practice vertical of Financial CRM, Banking CRM, Insurance CRM, Media CRM, Pharma CRM, Telecom CRM etc. Unlike commodity CRM, CRMnext has been widely recognized as a proponent of strategy driven implementations.
Know more about CRM Software by Visiting to http://www.crmnext.com/.