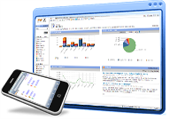 CRMnext Introduces Advanced Workflow and Assignment Engine
Delhi (PRWEB) August 12, 2013
Lead qualification is a critical part of any CRM sales process to ensure optimal attention is given to the interested leads and maximize conversion. Multiple processes can be defined as per business needs for lead qualification and conversion workflow. Users can qualify a interested lead and ensure the subsequent conversion and mapping is done to automatically create opportunity, contact and customer master available for assigned salespersons on custom layouts.
Our CRM solution- http://goo.gl/429Tzv ; by default enables Leads to be converted to an Account, Contact and Opportunity with a single click, simultaneously mapping relevant prospect's details to new records. Mapping object layouts is easy, simply choose their names from dropdowns' lists, enable 'Map Lead Product with Account' and 'Maintain closed Lead activity', if required.
Dr. Manoj Kumar, Product Architect, CRMnext said, "The lead qualify and assignment rules help in streamlining the process of converting a lead and ensures that all the related data is available for follow-ups to assigned users. Deduplication can also be enabled during the Lead conversion process to avoid redundant information and follow-ups by the sales or call center teams."
About CRMnext:
CRMnext is a specialist Customer Relationship Management product company with focus on ultra-scalable installations. CRMnext team has proven track record of delivering High-Impact CRM solutions in their key practice vertical of Financial CRM, Banking CRM, Insurance CRM, Media CRM, Pharma CRM, Telecom CRM etc. Unlike commodity CRM, CRMnext has been widely recognized as a proponent of strategy driven implementations.
Subscribe our blog to keep updated at http://feeds.feedburner.com/HighImpactCrmBlog-Crmnext .