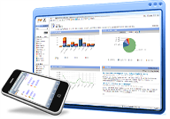 CRM Solution Introduces Smart Cross Sell Analyzer
New Delhi (PRWEB) October 10, 2013
The new cross sell analyzer allows an organization to leverage existing customer information, processes and products to offer relevant next best products with a high probability of selling at all customer touch-points.
The advance cross sell analyzer aids an organization in offering only those products that the customers are most likely to accept. It empowers customer facing teams with details like product name, business value, probability of purchase, time to purchase, reference customers who have already bought the product to boost conversion rates. It executes this with a four part strategy, starting from scientifically creating customer segmentation, understanding segment behavior, running predictive modeling to forecast cross-sell products and finally surfacing it for action at the point of contact. Being flexible, the cross sell analyzer technique can be used to quickly respond to changes in the marketplace as well as customer behavior.
"Marketers, now have an opportunity to use customer databases and programs to drive profitability enhancement. The advanced cross sell analyzer will prove to be beneficial in quickly rolling-out cost effective cross selling programs", Dr. Manoj Kumar, Product Architect, CRMnext claimed.
About CRMnext:
CRMnext is a specialist Customer Relationship Management product company with focus on ultra-scalable installations. CRMnext team has proven track record of delivering High-Impact CRM solutions in their key practice vertical of Financial CRM, Banking CRM, Insurance CRM, Media CRM, Pharma CRM, Telecom CRM etc. Unlike commodity CRM, CRMnext has been widely recognized as a proponent of strategy driven implementations.
To know more about CRM Solution; Visit http://www.crmnext.com/solutions.aspx