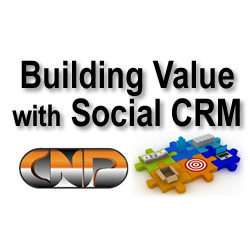 Setting your priorities and focus up front will help you better manage the results and expectations of your technology implementations
Boston, MA (PRWEB) July 20, 2009
CNP Integrations announced today the introduction of its new Small Business CRBM Launch Pad Program. This service and consulting support bundle is built off of CNP's proven success model; The Value Builder Program (VBP), a strategic, tailored planning methodology for businesses integrating virtual technology, designed with proven practices for success. "Setting your priorities and focus up front will help you better manage the results and expectations of your technology implementations" says Chris Nielsen CEO/General Manager for CNP Integrations. The CRBM Launch Pad program is based on the concept that significant cost savings and increased sales, along with improved customer and market relations, equate to greater profits and business value. Defined as the SMB CRBM Launch Pad Program, CNP is offering blended learning/consulting/technical support programs that include consulting, software solutions and training. These programs are designed to offer small businesses a cost effective way to deploy CRBM Technologies. By evaluating and mapping business processes with organizational needs and technology features to create an optimized deployment strategy provides an opportunity for guaranteed success.
The program comes in three distinct flavors;
1. The CRBM Kick Start System,
2. The CRBM Jump Start System
3. The CRBM Rapid Deployment System.
Each of the three targeted technology alignment tracks is a tiered point of entry tailored to the needs of businesses eager to see rapid results with deploying Customer Relationship and Business Management solutions. This program pairs the human dynamics of your small business with the priority requirements to get your set up, configured and aligned with a proven success program. These programs can be delivered succinctly in a phased approach or as a standalone deployment launch program. It all depends on the size and expertise within your company. "We have found that CRM systems in general are often complicated in nature and companies often try to take on to much all at once when they deploy CRM. Essentially we have taken these lessons learned and turned them in to affordable solutions for business owners. We offer what SMB's need to launch a turnkey program that aligns the people with the technology successfully at a price point that maximizes their investment."
The Launch Pad Program is three unique deployment packages built around CNP's unique Value Builder Methodology. The VBM is a series discovery steps delivered in one-on-one workshops where clients and subject matter experts translate a proven methodology into a plan specific for the client's needs. The main goal is to build value and improve the return on investment for the targeted technologies. The strategic planning process will address an integrated approach including management consulting, IT solutions, product training and support services. Value Builder Program is a structured approach that will take your team through an in-depth evaluation and strategic planning process to define a solid roadmap. This is a hands on consulting experience tailored to a business's specific needs and goals which provides a working integrations plan. Based on this roadmap CNP configures a custom support contract based on your CRBM platform design, and offers this on a low cost monthly retainer fee vs. large upfront costs.
To download Small Business CRM Launch Pad Program documents and pricing or to get started with a complimentary consulting session signing up here: Get a free white paper
By way of introduction to the Small Business CRBM Launch Pad Programs, CNP has created an upcoming Video Podcast and Webinar series that will cover core topics universal to effectively deploying any new technology solution.
Some topics include:

Understanding where Open Source adds the greatest value to your platform.
When open source is right for you and when it is not
"Free" does not mean it will not cost money
Common myths with open source tools
Getting your team on the same page and keeping them there
Leading from the top down, listening from the bottom up
Delegation strategies
Effective process alignment with existing systems
Discovery and training to improve efficiency
Automation and increasing effectiveness
Social CRM where the customers are in charge
Using technology to increase sales and generate leads
How to build loyalty and lasting relationships
Effective customer collaboration
Building value for your customers
Sign up for the webinar series by filling out the form here: Sign up for a CRM webinar
CNP's experts will guide viewer through the common challenges of effectively deploying any Customer Relationship and Business Management (CRBM), Virtual Collaboration systems, Social Web Technologies and ecommerce portals. CNP wants attendees to gain a new sense of confidence and tools to build value for their organization. Based on insight gained from the Webinars, or simply the pressing need to evolve a business to a more efficient, more effective model, anyone may start the free, interactive Value Builder Program stage 1 interview by registering online of tuning into our podcast schedules.
To learn more about the Value Builder Program framework, please visit CNP on the web at: Customer Relationship Management Experts or Call: 1-508-644-1553
About CNP Integrations Inc; "We Empower Your Customer Engagement"
CNP Integrations is a unique business consulting firm created to empower your small to mid-sized business in areas of current and future Social Networking, Joomla CMS Portal development, CRM (Customer Relationship Management) and CRBM (Customer Relationship and Business Management) practices. CNP provides software solutions that integrate online business information for both internal and external stakeholders, improving the client's overall customer experience, brand image and project management efficiencies. CNP Integrations is a global partnership with US corporate offices Massachusetts, and worldwide online.
###