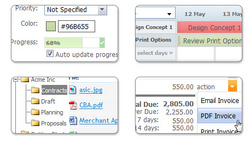 You can waste money chasing a solution for billing, one for CRM, and yet another for project management... or you can use the one solution for all those things
San Francisco, CA (PRWEB) February 17, 2010
WORKetc founder, Daniel Barnett, has claimed the current crop of cloud small business tools are actually hurting small business, not helping them.
"What we are seeing time and time again, are small businesses that have jumped on board with some web app that helps only one part of their business. Be it CRM, project management, billing or whatever. Next week, they discover another app, then another and another," Barnett said. "But before they know it they are paying 5 different monthly subscriptions, having to remember five different logins, five different workflows and then try and find a way to synchronise data between everything. It just doesn't make sense"
Frustrated by watching small business throw money after single focus solutions, the WORKetc team has taken this opportunity to speak out against the money drain. Taking on bigger players, WORKetc wants business to understand that 37 doesn't go into 1, and never will.
"We started this movement because we needed a solution for our own business," Barnett said. "I wanted a single place to manage my customers, run projects, close sales and invoice clients. With WORKetc, I can do everything"
With 14 business tools, CRM, billing, project management and now email marketing in its arsenal, WORKetc is the standout single-point solution for small business and customers have been evangelical in their uptake. "Clients tell me all the time, 'No cloud app has the completeness that WORKetc does'" Barnett explained adding, "It is a complete business tool."
Extroverted as well as introverted, WORKetc give's business the opportunity to share projects with clients in a secure online environment, allowing real time project tracking, feedback and billing.
"There is nothing WORKetc can't do," Barnett says, "It's as simple as that. You can waste money chasing a solution for billing, one for CRM, and yet another for project management... or you can use the one solution for all those things; Us."
WORKetc is available in English, Spanish and German from http://www.WORKetc.com and is designed by small business, for Small Business.
It is used by over 150 businesses and pricing starts from $29.95/month with a free 14 day trial. No credit card required.
###