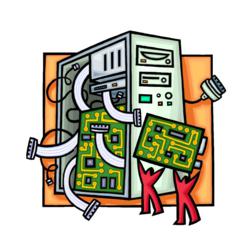 Everyone participated, everyone had a say; we couldn't be more pleased with the results. Our goal is excellence in customer service and this gives us a gigantic tool to make that happen
Coopersville, MI (PRWEB) April 23, 2013
In the 23 years that it has been in business, SelfLube has grown explosively. It started out in a tiny building and now serves customers in the mold and die industry throughout North America. One of the keys to that growth has been creating and maintaining strong business relationships. To do this well a good CRM (Customer Relationship Management) system is essential, so to kick off the second quarter, SelfLube launched its latest CRM system.
SelfLube's old CRM system was getting a little long in the tooth so at the beginning of the year the company decided to replace it. First, the company made an extensive survey of off-the-shelf systems. Finding none that would fit the bill, it decided to develop its own custom system. "Developing a custom application system is kind of unusual these days," says owner Phil Allor, "especially for a smaller company." That said, the argument with going with a custom system was pretty compelling.
Bits and pieces of information need to be gathered from sources and systems. "Off-the-shelf systems can potentially do this, but that might mean re-making the company which would be a little like the tail wagging the dog, remarks Allor. With a custom system SelfLube can have the exact functionality it wants - something focused on its new needs like a laser beam with no fluff, no make-dos or things that are just plain missing. According to Allor, "This gives SelfLube a big competitive leg up. There is no competitive advantage in an off-the-shelf system. Anyone can go out and buy one. To get a leg up you need to have something that no one else has."
The project kicked off in mid January. First the company looked at the existing system, identifying what was good, what was bad and what was just plain ugly. The good would be kept, the bad replaced and the ugly would be done over to keep the essence, but make it a lot more user friendly. Then a "wish list" of new functionality was drawn up and prioritized into essential, nice to have, border line, and fluff. Then the development work began in earnest. By early April the system was in beta testing.
"This was a team effort," says Marketing Specialist and Sales Supervisor Jordan Fifelski. "Everyone participated, everyone had a say; we couldn't be more pleased with the results. Our goal is excellence in customer service and this gives us a gigantic tool to make that happen."
###
SelfLube is the leading US manufacturer of precision mold and die components such as bushings, gibs, wear strips, parting line locks, lifter slide and related items - about 8,000 standard part numbers in all, many of which are self-lubricating. The company sells directly to build shops throughout North America and Canada, which results in both better pricing and better customer service. Its record for on time delivery is among the best in the industry.