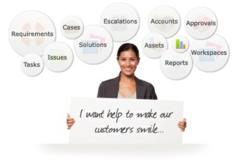 CRMnext also enables system driven contact strategies based on customer bands to ensure aligned actions and quality interactions across all customer touch-points.
North Carolina (PRWEB) November 06, 2012
HDFC Bank wins the 2012 Celent Model Bank Award in the "Customer Service Initiative" category for delivering great customer experience across channels including branch, phone banking, contact centers etc.
HDFC Bank does not believe in designing a product/process and look for customers. Instead it always puts the customer at the center while designing various products/process to meet customer needs. The key difference lies in "Customer Centric approach" versus "Product centric approach". Bank focuses towards identifying customer niches to design specific products to meet their requirements and emphasis is on "acquiring through bricks" and "serve through clicks".
HDFC Bank always believed in "One Bank" vision and had invested in the right technology since inception. It is one of the few Indian Banks to have put in place a dedicated "Service Quality and Lean Sigma Team" which imbibes the power of Lean Sigma to transform processes and abreast technology to provide continuously improving customer experience across channels. With a view to ensure consistent experience across channels and to enhance 360 degree view of customers, it partnered with CRMnext in 2007. The bank realized that in today's environment only unparallel customer experience could provide a sustained edge much needed to maintain profitable growth while increasing number of customers, transactions and resultant balance sheet size.
"The idea was to completely transform the customer experience by creating a single common platform across the bank for strategy execution. Driving improvement in Service Quality needed adequate focus on process reengineering, behaviour change as well as technology support. We needed a CRM system with scalability given the large data volumes, 55,000+ user base, workflow complexities, integration, synchronization and incremental updates was a big challenge. Our CRMNext solution added value to execute our vision without any compromise." said Ratan Kesh, Senior Vice President and Head Service Quality, HDFC Bank.
CRMnext allows creation of a unified customer view by interfacing with various sources including the data warehouse thereby providing a comprehensive 360° view of customers across various channels like branch, phone banking, etc. Today HDFC Bank has more than 25,000 on CRMnext who have a comprehensive and relevant 360° customer view which has multiplied cross-sell and up-sell capabilities at all customer touch points.
CRMnext also enables system driven contact strategies based on customer bands to ensure aligned actions and quality interactions across all customer touch-points. Various systems integrated to provide event based triggering such as large deposits, channel usage, etc. Marketing team continuously generates cross-sell offers and next best products to be sold. This has resulted in HDFC bank having one of the highest product holding ratios per customer in the industry.
"At CRMnext, our focus has been to deliver high impact transformational CRM solutions. We enable our customers to execute their strategy, holistically on a single platform, thereby creating sustainable competitive advantages for them. We feel proud to be a part of the entire customer experience transformation initiative at HDFC bank." Nishant Singh, Director, CRMnext.
Thanks to bank's focussed Service Quality drive and CRM initiative, Bank's customer base has witnessed a huge increase alongwith significant increase in the leads, higher conversion ratio and reduction in TAT. First pass rate has gone up and Bank's Service Quality Rating improved leading to many-fold reduction in customer complaints.
About CRMnext
CRMnext is a specialist CRM Software product company with focus on ultra-scalable installations. CRMnext team has proven track record of delivering High-Impact CRM solutions in their key practice vertical of Banking, Insurance, Media, Pharma and Telecom. Unlike commodity CRM, CRMnext has been widely recognized as a proponent of strategy driven implementations.