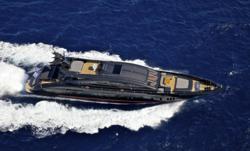 Croatia (PRWEB) July 10, 2012
The SGS certification was recently presented to the Croatia yacht charter specialists Navis Yacht Charter. The endorsement affirms the company's commitment to high quality processes and services, exemplified in their yacht sales, yacht chartering, and yacht management. Additionally NYC offers high quality technical and brokerage assistance.
Navis Yacht Charter routinely demonstrates their SGS accredited, high quality service through yacht charters that are offered both for business and pleasure. For all the company's charters, NYC attends to the smallest details to ensure their clients' unique experience fits NYC's standards of excellence.
Based upon a client's requirements and preferences, NYC helps select an appropriate yacht charter, choosing from an array of options, including catamarans, luxury yachts, mega yachts and sailboats. For corporate events, NYC in Croatia offers corporate yachts, VIP yachts and yachts with crew.
The SGS certification highlights the work of Navis Yacht Charter's team of marine engineers, surveyors, captains and inspectors, who help to deliver high quality yacht management services. The Croatia yacht charter experts deliver yachts according to their client's needs. NYC performs yacht repairs and also designs and constructs yachts. NYC assists with shipyard operations, dry docking, and yacht refits.
The yacht chartering specialists at NYC provide in depth technical assistance on request. Navis Yacht Charter advises owners regarding the best short term and long term practices to maintain their yachts. The company helps clients acquire and renew licenses and insurances.
As part of Navis Yacht Charter's commitment to quality service, recognized by the SGS certification, the company attends to clients' needs regarding paperwork, accounting, and facility management. NYC helps clients navigate immigration protocol. The yacht chartering company assists with bunkering and arranges hotels and transport. NYC attends to travel amenities, such as dry cleaning, dining, flowers and wines.
Navis Yacht Charter was founded in 1998 by experienced captains and maritime engineers who have a background in cruising and yachting. The company, featuring Croatia yacht charter services, privileges honesty, integrity and long lasting customer relations. NYC has offices in Croatia, the UK and partners in Greece, Spain, Germany and Côte d'Azur, (the French Riviera) enabling travel to the most popular destinations in the Mediterranean. In addition, NYC is expanding worldwide. Commitment, trust, discretion and excellent customer service are the top priorities for Navis Yacht Charter. Their customer service team is quick to respond to any customer inquiry. The company can be found online at http://www.navis-yacht-charter.com.