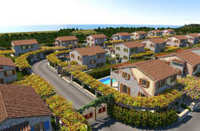 Fameya Vila's featured on HGTV. The true story from buyers of Fameya catched and broadcasted to global audience by Home Hunters International
Pompano Beach, FL (PRWEB) April 30, 2010
The Fameya Luxury Mediterranean Vila's are one of the Istrian beauties. Extraordinary spot and superb materials with natural elements used to construct the beauty of real estates resort Fameya http://www.fameya.com
Bostjan and Anja love their life in Slovenia but they want to move out of their tiny apartment and find a larger home where they can eventually raise a family. They've decided to buy a home in nearby Croatia where they can not only afford a bigger place, but they can also be right on the beautiful coast. They both agree on the larger home but when it comes to the details the couple doesn't see eye to eye. The most important thing for Anja is a home with an office, while Bostjan is focused on having a pool. They'll look at three very different places, but can they find one that works for both of them?
follow the story at http://tinyurl.com/344o7mw
The competition is brutal but quality and price performance always wins. The real estate market is flooded with offers and being unique was the achieved goal of Fameya luxury resort. Charming area, Mediterranean smell with gourmet specials around the corner. Seaside with fresh mornings and Istrian air are the perfect choice for Anja and Bostjan.
They were monitoring the progress and dedication of builders at http://www.fameya.com/videoblog where all details are covered. Newer closer to their dreams Bostjan and Anja chosed best option for their life.
Dont miss Fameya at HGTV or visit http://www.fameya.com for more info
###