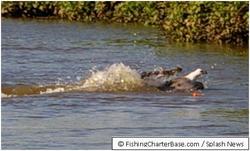 While this was quite a sad event to witness it did reinforce how quickly the crocodile sensed an opportunity and how quickly it responded.
Darwin, Australia (PRWEB) April 12, 2010
Recreational fishing in Australia is undoubtedly one of the most popular sports in the north of Australia and the famous Australian Barramundi, or Lates Calcarifer, is one of the most sought after and well regarded sports fish in the world.
On a recent fishing trip up the Adelaide River, about one hours drive from Darwin, our FishingCharterBase.com correspondent Andy Warton witnessed an unfortunate but spectacular incident on the water while chasing a Barramundi himself.
On a dry but hot afternoon on the pristine waters of Australia's Top End, a large sea eagle with a wingspan of over a meter and a half swooped to steal the bait of a local recreational angler who was chasing an afternoon Barramundi. Unfortunately, in the process the eagle became entangled in the fishing line and was drawn down to the crocodile infested waters of the Adelaide River.
What ensued was testament to the amazing power of nature and the finely tuned hunting skills of the crocodile as it quickly made a move towards its dinner. "While this was quite a sad event to witness it did reinforce how quickly the crocodile sensed an opportunity and how quickly it responded," Andy Warton said.
Within a few seconds, the crocodile sensed a bird in trouble and quickly propelled itself towards the sea eagle, at first on the surface, and ultimately under water to gain extra speed. On arising, the crocodile wasted no time in snatching the eagle in its jaws and drowning it ready to eat. As this was happening, the eagle's dedicated partner watched in disbelief and even made a final but unsuccessful attempt to rescue its life long friend.
According to the Fishing Charter Base.com correspondent, "In one swift and calm movement, the crocodile grabbed the eagle and rolled it underwater. As the crocodile and eagle disappeared into the depths of the river, the eagle's partner made one final flight across the river and returned to the tree where it sat in disbelief."
It is rare for such an incident to occur on the Adelaide River and in this instance, we are told that the fishermen involved made every effort to save the eagle. The river systems of Australia's Northern Territory are home to all manner of wildlife and it is estimated that there are over 100,000 crocodiles in the Northern Territory at present.
The river systems in the Northern Territory offer some of the best recreational fishing, bird watching, nature observation, camping and boating in Australia. A comprehensive and free fishing charter booking service for Darwin Fishing Charters and an incredible series of photographs picturing the crocodile and eagle in their epic battle can be found at Andys Blog.
###