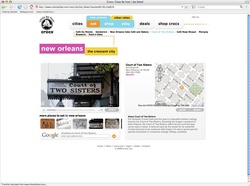 We are excited because nothing brings the overall atmosphere and history of the Samovar Tea Lounge like this.
NIWOT, Colo. (PRWEB) May 14, 2008
CitiesByFoot.com, which launched today with micro-sites from New Orleans, San Francisco, Denver, Las Vegas, Aspen and Vail, features fun walking guides to help leisure and business travelers easily find unique places to shop, eat, and play. An on-camera host steps out in style to discover each cities' best kept secrets, interviewing local business owners and elaborating on the experience and ambience that each location offers, all while enjoying the comfort of their favorite Crocs™ shoes. The fast-paced 2 to 3 minute segments also provide viewers with insight to the neighborhoods and user-friendly navigation, mapping technology, and special offers from Crocs and partners.
CitiesByFoot.com provides entry for Crocs into the burgeoning web video market. Crocs wanted to ensure that Cities by Foot products would be useful to travelers, beneficial to hip local businesses, and unlike anything currently on the web. In addition to giving Crocs a direct-to-consumer platform, CitiesByFoot.com will serve as a dynamic portal for co-branded partnerships, cross-promotional opportunities, and global initiatives while highlighting the lightweight, compact and comfort attributes of Crocs™ footwear.
"Our goal was to develop a new platform that transcends geographic boundaries, gives back to the community and serves a needed niche, while also reinforcing the fact that Crocs™ shoes are the perfect travel accessory," said Ed Wunsch, Director of Marketing for Crocs, Inc. "Cities By Foot accomplished that brilliantly while allowing customers and potential customers new and unique ways to interact with the our brand."
"Instead of allocating additional marketing dollars on traditional media, we think it is more relevant and timely to create an online video-based platform that will consistently provide both local businesses and travelers with something of real value," said Tom Flanagan, CEO of entertainment and marketing agency Red Robot, who conceived of and built the site. "It is important to create content that can be easily consumed on the Internet and various mobile devices. With Crocs now doing business in over 90 countries, it was also critical to develop a platform that would be scalable and applicable to all of their markets," continued Flanagan.
A local San Francisco hotspot, Samovar Tea Lounge, is featured for its unique atmosphere, involvement in peaceful endeavors, and downtown location. Jesse Jacobs, owner and founder of Samovar, praises Cities by Foot for its unique capacity to convey the attributes that matter most. "We have a few videos on our website, but they are more geared towards the basic 101's of tea," said Jacobs. "We are excited because nothing brings the overall atmosphere and history of the Samovar Tea Lounge like this."
To learn more about the site, please visit http://www.CitiesByFoot.com or http://www.Crocs.com.
About Crocs, Inc:
Crocs, Inc. is a rapidly growing designer, manufacturer and retailer of footwear for men, women and children under the Crocs™ brand.
All Crocs™ brand shoes feature Crocs' proprietary closed-cell resin, Croslite™, which represents a substantial innovation in footwear. The Croslite™ material enables us to produce soft, comfortable, lightweight, superior-gripping, non-marking and odor-resistant shoes. These unique elements make Crocs™ footwear ideal for casual wear, as well as for professional and recreational uses such as boating, hiking, hospitality and gardening. The versatile use of the material has enabled us to successfully market our products to a broad range of consumers.
Crocs™ shoes are sold in more than 90 countries and come in a wide array of colors and styles. Please visit http://www.crocs.com for additional information.
MULTIMEDIA GALLERY http://www.businesswire.com/cgi-bin/mmg.cgi?eid=5684968