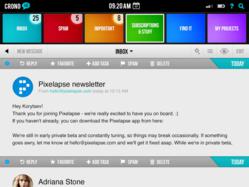 DENVER, Colo. (PRWEB) January 11, 2013
January 10, 2013 – How smart is your email? Crono Inc. founders Jack Freeman, Stephen Weigel and Andrew Rothberg believe smart and beautiful are not mutually exclusive when it comes to email.
The Denver-based tech startup officially launched its campaign with the Kickstarter.com funding platform to raise $40,000 USD for the completion of the Crono application.
Crono is an email application for the iPad and iPad Mini that challenges the way we use our email on a daily basis. Once funded and completed, Crono will deliver a stylish and intuitive solution to email that provides a much improved experience over current mobile email clients. It comes complete with features such as multiple view modes, automated and customizable folders for sorting, email push notifications and enhanced search functionality. Learn more about Crono at http://www.cronomail.com.
"Crono is flipping the email paradigm on its head by revamping the design and user interaction that you see on current email clients. Providing features such as advanced searching and sorting, efficient task management, and push notifications in a smooth and intuitive interface, the Crono email experience will make email less of a chore," says co-founder Stephen Weigel.
The project will be posted for 30 days with a funding goal of $40,000 USD. Depending on the size of the pledge, early investors in the project can receive short term benefits including the ad-free Crono mail app (once released); banner and other advertising opportunities on the app and chances to take part in ALPHA and BETA testing on upcoming versions of the app. Top investors can also receive an iPad, complete with the Crono app, for their contribution. Detailed information about the project and investor benefits can be found at http://www.kickstarter.com/projects/1662909539/crono-stylish-intuitive-email-for-the-ipad-and-ipa?ref=email.