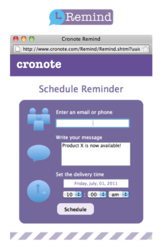 It helps users
remember your site when the time is right.
Irvine, CA (PRWEB) July 18, 2011
Cronote, a web-based company that provides SMS (text message) and email reminders, is launching the beta version of its Remind Button. The button is designed for website owners seeking to turn visitors into returning customers.
The Cronote Remind Button Beta is available for enrollment at http://www.cronote.com/remind.html. The Cronote Remind Button is user-driven and non-invasive; the consumer actively chooses the products that he or she would like to remember. It helps users remember your site when the time is right.
Businesses customize the Remind Button with a default message and delivery time. The advertising possibilities are broad and can be applied to product launches, events, sales, and everyday purchases. For example, the reminder's message could be "Product X is now available!" and the delivery time would be product's launch date.
Alternatively, businesses can allow consumers to change the reminder's message and/or delivery time. This is useful for visitors who are unable to make an immediate purchase but who would like to remember the product at a later time.
Reminders are sent from the Cronote server via SMS or email. Email reminders are free while SMS reminders are $0.02 per message. Businesses may freely use email reminders or deposit funding into an online account to enable SMS scheduling. Each scheduled SMS deducts $0.02 from the account's balance. If the balance reaches zero, new SMS scheduling is disabled, but email scheduling remains active.
Cronote is a web-based company established in August 2010. Cronote aims to provide quick and easy ways to schedule reminders (http://www.cronote.com). The Cronote iPhone App is also available for AT&T and Verizon customers.
###