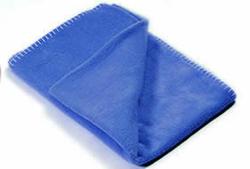 Boston, MA (PRWEB) September 28, 2012
Crooked Brook is offering a 10% discount off their blank, 30" x 40", 100% Polyester, Anti-pill 360 g/y fleece baby blankets with no minimum from 9/28/12 thru 10/05/12 with the promo code "92812".
Fleece blankets are made from Polyethylene terephthalate (PET) or other synthetic fibers and can be made out of recycled PET bottles, or even recycled fleece. They are lightweight, warm, soft, and hydrophobic, holding less than 1% of their weight in water which allows them to retain much of their insulating powers even when wet. They are machine washable, dry quickly and are very breathable.
Although fleece blankets are also called "fleece throws" or "fleece throw blankets" there is a difference, and that is the size. Fleece blankets run in sizes that correspond with bedding dimensions; king, queen, full, twin and baby.
Fleece throws or fleece throw blankets are smaller than a twin blanket (but bigger than a baby blanket) which is the perfect size to "throw" over your lap or shoulders. Fleece throws are popular at outdoor sporting events (especially when personalized with a team logo or mascot) which is why fleece throws are sometimes called stadium blankets.
Regardless of the size, the words "fleece blankets", "fleece throw blankets", "fleece throws" or "stadium blankets" are used interchangeably.
Fleece blankets come in different weights that are labeled in ounces or grams per linear yard. A heavier fleece weight will mean a thicker blanket.
Not all fleece blankets are created equal; before you buy one, find out what the weight, dimensions and what the fabric content is.
Fleece blankets can usually be shaken out or spot cleaned but occasionally the need arises for a full cleaning. When necessary, they should be machine washed in cold or warm-cold water on the gentle cycle. Vigorous agitation can cause pilling and shorten the life of your blanket; for best results only wash with other fleece items. Regular detergent can be used however bleach and fabric softer should be avoided as they can damage the fabric.
Air drying is preferable to machine drying. Line drying will not scorch the fleece and will result in less static than a dryer. If air drying is not possible tumble dry on the lowest heat setting, being careful not to over-dry the fleece. Never iron fleece blankets. It is possible to melt the material and leave permanent marks.
About Crooked Brook
Crooked Brook is a unit of the atelier division of an art studio that offers full service apparel design, pattern making, sample making, private-label small lot production, direct-to garment printing and embroidery. Since 1989, they've built a strong reputation of providing top-notch apparel designs, patterns, fit and production samples for many brand name catalogs and retailers, as well as wardrobe and costumes for movies, television and theater.
All Crooked Brook branded garments and accessories are proudly made to order in the U.S.A.
In addition, Crooked Brook offers:
Custom and made to order men's and women's chef coats, casino, spa, resort, hotel, chef and restaurant uniforms as well as alumni chef jackets for the Culinary Institute of America. Lab coats, uniforms and scrubs for nursing, medical, dental, scientific, engineering, technology & healthcare professionals.
Custom and made to order apparel and accessories for men, women and children, including but not limited to: suits, shirts, Hawaiian shirts, pants, vests, dresses, skirts, gowns, jeans, boxer shorts, martial arts and yoga outfits.
Sewing buttons and fabric by the yard: Ripstop, Organic Cotton Twill, Gabardine, Seersucker, Denim and Supima® Gabardine.
Promotional products, items, decorated apparel and accessories, such as; fleece vests, hats, polo shirts, fleece blankets, sweatshirt blankets, shirts, jackets, hoodies, golf shirts, custom t-shirts, tote bags, sweatshirts and aprons that can be customized with the following apparel decorating methods:
Embroidery
Tackle Twill
Appliqué
Direct to Garment Printing (DTG)
Sublimation
With a design studio in New York City, (the fashion and gastronomic capital of the world) and a production facility in Utica, New York, they've garnered international brand name recognition as the maker of the "World's Highest Quality Chef Jackets™".
Crooked Brook ships worldwide. Hours of operations are 7:00 a.m. to 7:00 p.m. EST, seven days a week. Reach them at (315) 733-1992 to learn more.