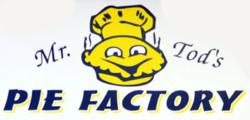 Somerset, NJ (PRWEB) July 09, 2012
Crooked Brook was contacted by Tod Wilson, founder and owner of Mr. Tod's Pie Factory to make custom embroidered hats for his staff. The hats were a Champion style C4001, Brushed Cotton 6-Panel Cap, in Navy.
Embroidery for the hats was as follows:
Center Front: Mr. Tod's Pie Factory logo
Back, arched: whybake.com
About Mr. Tod's Pie Factory
Mr. Tod's Pie Factory specializes in making pies and other baked goods from scratch, using only the finest spices, butter and other natural ingredients.
Their personal size pies are small enough to fit in the palm of your hand, but the taste is big enough to satisfy the sweetest of sweet tooths. Most pies come in either a 4" or 10" size.
Whether for the house, office, catered events, fundraisers, or simply as a tasty gift, Mr. Tod is ready to serve you one of his delicious pies.
About Tod Wilson
Mr. Tod's industrious spirit can be credited to his mom who often worked several jobs to provide for him and his two brothers. Prior to entering college, Mr. Tod spent his summer as an intern with a local baker in Northern New Jersey. After college, he worked for Metropolitan Life as an account representative where he learned the corporate structure, how to build client relationships, and to hone his sales skills. After a brief stint with MetLife, Mr. Tod went onto to become one of the largest distributors at the same bakery he interned for. As his customer base grew, Mr. Tod saw the need for a speedier, more reliable way to meet the expanding demand for his products. Now Mr. Tod is in total command of manufacturing, quality control and distribution.
Mr. Tod's long-term goal for Mr. Tod's Pies is to make the company's name as household as Sara Lee and Entenmann's. Though all his pies are tasty and delicious, the main seller by far is the four-inch sweet potato pie. It's small enough to fit in the palm of your hand, but the taste is big enough to satisfy the largest of appetites. All pies come in either a four inch or ten inch size.
About Crooked Brook
Crooked Brook is a unit of the atelier division of an art studio that offers full service apparel design, pattern making, sample making, private-label small lot production and embroidery. Since 1989, they've built a strong reputation of providing top-notch apparel designs, patterns, fit and production samples for many brand name catalogs and retailers, as well as wardrobe and costumes for movies, television and theater.
All Crooked Brook branded garments and accessories are proudly made to order in the U.S.A.
Because of their unparalleled attention to detail in tailoring, they were awarded a Supima® licensing agreement. These contracts are not awarded lightly. The applicants must meet requirements insuring the highest level of quality and integrity for any products bearing the Supima® brand.
In addition, Crooked Brook designs and manufactures:
Men's and women's chef coats and uniforms for the world's most recognized chefs, hotels, casinos, spas and resorts as well as alumni chef jackets for the Culinary Institute of America. Each garment can be personalized with the customer's choice of fabric, pockets, buttons, piping and embroidery.
With a design studio in New York City, (the fashion and gastronomic capital of the world) and a production facility in Utica, New York, they've garnered international brand name recognition as the maker of the "World's Highest Quality Chef Jackets™".
Promotional products, items, decorated apparel and accessories, such as; custom embroidered jackets, hats, sweatshirts, hoodies, custom embroidered polo shirts and golf shirts, fleece blankets, sweatshirt blankets, custom embroidered shirts, fleece jackets, golf shirts, custom t-shirts, tote bags, custom embroidered hoodies, sweatshirts and aprons that can be customized with the following apparel decorating methods:
Embroidery
Tackle Twill
Appliqué
Direct to Garment Printing (DTG)
Sublimation
Custom lab coats, uniforms and scrubs for nursing, medical, dental, scientific, engineering, technology & healthcare professionals.
Custom made apparel and accessories for men and women, including but not limited to: suits, shirts, Hawaiian shirts, pants, vests, dresses, skirts, gowns, jeans, boxer shorts, martial arts and yoga outfits.
Crooked Brook ships worldwide. Hours of operations are 7:00 a.m. to 7:00 p.m. EST, seven days a week. Reach them at (315) 733-1992 to learn more.