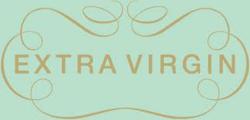 New York, New York (PRWEB) July 01, 2012
Crooked Brook was contacted by Chef Joey Fortunato to embroider the custom hats for "Extra Virgin" his restaurant located in New York City's West Village. Chef Fortunato opted for a Yupoong Flexfit® style 5001, 6-Panel Structured Mid-Profile Cap in Black.
Embroidery is as follows:
Center Front: Extra Virgin logo
Back: 259 W 4th Street New York City
About Extra Virgin
Extra Virgin is a neighborhood spot that attracts diners from all across the city. Located in New York City's West Village, Extra Virgin is "a little gem of a restaurant... with cooking consistently good and the young staff, attractive and efficient" (The New York Times). In addition to deliciously inventive Mediterranean food and a comfortable but energetic dining room, Extra Virgin offers different varieties of extra virgin oils from around the world each night.
About Michele Gaton
Born and raised in Jamaica, Queens, Michele Gaton has been honing her skills in different aspects of the restaurant industry since graduation from Oberlin College. After four years as general manager at Coffee Shop in New York City, she has finally used her years of experience to fulfill her dream of becoming a restaurant owner. At Extra Virgin, Michele takes charge of the "front of house," ensuring that every customer enjoys warm and attentive service, a cozy and lively dining room, as well as carefully selected and fairly priced wines.
About Joey Fortunato
Like Michele, Joey was born and raised in Jamaica, Queens. After graduating from New York City Technical College with a degree in culinary arts, Joey worked The Manhattan Ocean Club where he was encouraged to study in France. After a year in Paris working at Michelen-rated restaurants, Joey returned to New York City where he worked in some of the city's best restaurants (La Cite, Picholine and Tribeca Grill) before becoming Executive Chef at Layla, Scarabee, Swissotel the Drake and The Tonic. Finally, in Michele Gaton, Joey found the right partner with whom to realize his dream of owning and operating his own restaurant. With Extra Virgin, Joey cooks inventive high-end Mediterranean-style food at approachable prices.
About Crooked Brook
Crooked Brook is a unit of the atelier division of an art studio that offers full service apparel design, pattern making, sample making, private-label small lot production and embroidery. Since 1989, they've built a strong reputation of providing top-notch apparel designs, patterns, fit and production samples for many brand name catalogs and retailers, as well as wardrobe and costumes for movies, television and theater.
All Crooked Brook branded garments and accessories are proudly made to order in the U.S.A.
Because of their unparalleled attention to detail in tailoring, they were awarded a Supima® licensing agreement. These contracts are not awarded lightly. The applicants must meet requirements insuring the highest level of quality and integrity for any products bearing the Supima® brand.
In addition, Crooked Brook designs and manufactures:
Men's and women's chef coats and uniforms for the world's most recognized chefs, hotels, casinos, spas and resorts as well as alumni chef jackets for the Culinary Institute of America. Each garment can be personalized with the customer's choice of fabric, pockets, buttons, piping and embroidery.
With a design studio in New York City, (the fashion and gastronomic capital of the world) and a production facility in Utica, New York, they've garnered international brand name recognition as the maker of the "World's Highest Quality Chef Jackets™".
Promotional products, items, decorated apparel and accessories, such as; jackets, hats, sweatshirts, hoodies, embroidered polo shirts, fleece blankets, sweatshirt blankets, button down shirts, fleece jackets, golf shirts, custom t-shirts, tote bags, and aprons that can be customized with the following apparel decorating methods:
Embroidery
Tackle Twill
Appliqué
Direct to Garment Printing (DTG)
Sublimation
Custom lab coats, uniforms and scrubs for nursing, medical, dental, scientific, engineering, technology & healthcare professionals.
Custom made apparel and accessories for men and women, including but not limited to: suits, shirts, Hawaiian shirts, pants, vests, dresses, skirts, gowns, jeans, boxer shorts, martial arts and yoga outfits.
Crooked Brook ships worldwide. Hours of operations are 7:00 a.m. to 7:00 p.m. EST, seven days a week. Reach them at (315) 733-1992 to learn more.