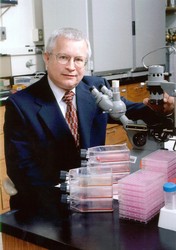 The Complete Phase Ib: An Approach to Getting to Phase II Faster
Phoenix, AZ (PRWEB) July 9, 2008
Medelis, Inc., a contract research organization providing complete oncology clinical trial design, management and execution, today published a free new downloadable abstract, "The Complete Phase Ib: An Approach to Getting to Phase II Faster", an interview with renowned oncology investigator Daniel Von Hoff, M.D.
In the interview, Dr. Von Hoff discusses "The Complete Phase Ib", a trial design that streamlines phase I by testing various drug combinations in one trial with multiple arms running in parallel. This structure creates rapid accrual rates, substantial economies of scale and significant time savings for sponsors versus the traditional sequential approach. It also garners enthusiasm from investigators and patients, who ultimately gain greater potential for improved therapeutic benefits and care.
Dr. Von Hoff provides insight and details on a variety of questions about this approach:

The phase Ib concept
Patient accrual and treatment benefits
How the approach can "rescue" patients
Dosing strategies
Logistical considerations
Cost and timing considerations
Effects on phase II studies
Reactions from the FDA, investigators, sponsors and patients
A member of President Bush's National Cancer Advisory Board, Dr. Von Hoff's major interest is in the development of new anticancer agents both in the clinic and in the laboratory. His laboratory interests and contributions have been in the area of in vitro drug sensitivity testing to individualize treatment for the patient. At present, he and his colleagues are concentrating on the development of molecularly targeted therapies with a focus on pancreatic cancer.
Dr. Von Hoff currently serves as Senior Investigator and Head of Translational Research at the Translational Genomics Research Institute's (TGen) Translational Drug Development Division and Head, Pancreatic Cancer Research Program in Phoenix, Arizona. He also serves as Chief Scientific Officer for U.S. Oncology and the Scottsdale Clinical Research Institute and is a founding shareholder and advisory board member of Medelis.
The abstract is the second in Medelis' complimentary "Peer Perspectives in Oncology" Q&A series, which brings together respected researchers to discuss issues that face Chief Medical Officers today: rising costs, optimum patient accrual, targeted therapeutics, patient safety, FDA regulations, efficacy, budgets, and timelines.
The abstract is available for download in the Insider Abstracts section of Medelis' Web site.
About Medelis, Inc.:
Medelis, Inc. is an oncology contract research organization providing a total solution for biotechnology and pharmaceutical companies seeking rapid drug development and approval. Medelis' medical founders, clinical trial management physicians and advisory board members, including Dan Von Hoff, James Gourzis, Howard Burris and Michael Gordon, are internationally-recognized oncology thought and opinion leaders who understand the future of personalized medicine and threshold of credibility trials. Offerings include strategic plans for regulatory approval from phase I through NDA and complete oncology clinical trial design, management and execution.
Medelis is privately-held and located in Phoenix, Arizona with locations in Nashville, Phoenix and Reno.
###