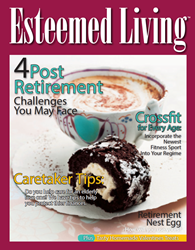 Esteemed Living is not only passionate providing vital info, but inspiring readers to observe life in refreshing, more exciting ways and tries to set the "style" in lifestyle. Visit EsteemedLiving.com today!
(PRWEB) February 28, 2014
The February Edition Includes topics such as: Post Retirement Challenges, CrossFit for Every Age, and a special caregiver article from Parenting Upward: Protecting the Finances of the Elderly. View Esteemed Living's Facebook magazine content here.
This edition concentrates on some of baby boomers top financial regrets. Americans in their golden years have waited their entire working life for retirement and done all they needed to get to the finish line and may ask "So now what? Entering retirement years while exciting, but can also be intimidating. This article explores savings, 401ks, investments that can be useful for all senior every Americans financial situation.
In addition Esteemed living has discovered the most intense and yet psychically rewarding exercise regiment around that spans across all ages, language barriers and ability levels as well: Crossfit for every age. Crossfit workouts may seem intimidating for everyone, especially those over 50, but Esteemed Living divulges that this workout trend is undoubtedly one of the healthiest, habit forming experiences anyone can acquire.
Esteemed Living is not your typical 50 plus magazine. Today's Seniors are the healthiest, most cultivated, cultured, and educated consumers and they ready to take senior living to a new level. Adults 55 and older account for one-third of all trips in the U.S. and purchase 80% of luxury vacations. These same consumers account for 43% of traffic generated online. The team at Esteemed Living is a new publication that knows their customers and are dedicated to being a foremost source for today's Senior and tomorrow's as well.
Monthly Esteemed Living, releases a special online version monthly. The February edition is filled with informative new articles and the online version contains the very best of each month's edition. 1-800-MEDIGAP is known as the leading toll free number for Medicare supplement insurance information and is proud to be working in conjunction with Esteemed Living. Jeff Cline, CEO of 1-800-MEDIGAP says, "We're proud to be working with Esteemed Living Magazine, a consumer engaging and passionate entity.