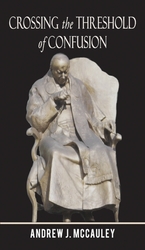 East Greenbush, NY (Vocus) November 23, 2010
With his ascendance into sainthood fast approaching, the critical evaluation of the late Pope John Paul II's papacy is, to many, long overdue. Impugning the integrity of this international Catholic celebrity's policies and precedents, Andrew J. McCauley critically reexamines the papacy of Pope John Paul II in his scathing new nonfiction book, Crossing the Threshold of Confusion (published by iUniverse).
Well-written and timely, Crossing the Threshold of Confusion presents a definitive case against the canonization of Pope John Paul II. Utilizing John Paul II's publicized ideas, writings and policies – from his days as a young priest to his final days as pope – McCauley tests their compatibility with traditional Catholic doctrine and practice. What he finds will turn the image of this popularized Catholic figure on its head.
Among the subjects McCauley takes issue with include John Paul II's failure to enforce discipline in the church, especially against widespread sexual abuse by priests; his statements implying universal salvation, his "Theology of the Body" and the inevitably destabilizing effects on marriage, his conflicting messages on capital punishment and his claim that the church has newly defined "her own nature." In his most incisive moments, McCauley points to the inherent danger and consequences of having an international politician at the head of the Catholic Church. He writes:
"John Paul II was not the source of most of these destructive trends within the Church. He merely facilitated their spread by his actions and inactions. In fact, he resisted and fought some of them. His record on the life issues would be hard to improve upon. But it is doubtful that we ever had a pope before who was so influenced by worldly thinking and trends. In fact, he was so conditioned by the culture of the world that, in this writer's opinion, he was probably the first pope who did not think like a Catholic. Phenomenology, existentialism, ecumenism, and perhaps the influence of modernist theologians were just some of the worldly trends that seemed to shape his thinking."
Controversial and insightful, Crossing the Threshold of Confusion is not to be missed.
About the Author
Before his retirement, Andrew J. McCauley was an attorney practicing law in New York and serving for the Catholic League for Religions and Civil Rights. He was a contributor to Latin Mass magazine and other catholic publications. He resided in Florida until his death in April of 2010.
iUniverse is the leading book marketing, editorial services and supported self-publishing company. For more information, visit iuniverse.com.
# # #